Sore foot from the Munich ISPO

We are back from a leg-breaking four days in Munich, home of the ISPO sports community trade fair. Held in the Messeland, built on the site of the old Munich airport this show is big. So big that even with four days of opening you have to be selective about what you cover. 14 halls bigger than football pitches and 1800 exhibitors including large delegations from both India and China presenting what those countries have to offer in manufacturing capabilities. If you count half an hour for each stand, somewhat conservative as we found out if you want to study the products in any detail, then it would take about a month to visit the whole show.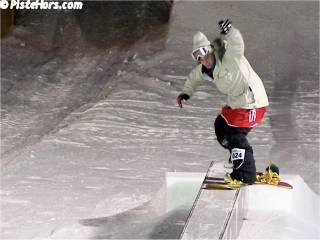 IPSO is strictly "trade only", So strict that even PisteHors.com with its 2 million page views per year had trouble getting an invite. Instead we covered the event for a North American journal. To be fare the show is not particularly oriented to casual visitors but is aimed at business customers wishing to cement old and build new relationships and find out what they may be distributing and selling next season. Stands are extremely busy and it pays to arrive early.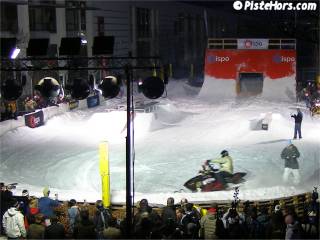 Armed with our Palm enable interactive event guide (somewhat lighter than the phone book sized guidebook) we made a triage of exhibitors we wanted to talk to in detail. To raise questions submitted by PisteHors readers and to find out what next season has in store. So we focused on the Backcountry Village in halls B4-5. With a quick look at other products and a walk by tour of the rest of the show.
The major highlights for us were undoubtedly the Mammut Pulse avalanche beacon and Black Diamond's AvaLung equipped Anarchist backpack range. Both are deserved winners of coveted Volvo Sports Design awards and the backpack also won an European ski award. After a year of teething problems and redesigns Ortovox were also showing working versions of their S1 avalanche transceiver. Along with the updated Nic-Impex ARVA ADvanced these beacons promise to simplify the problem of multi-victim searches for victims of avalanches. Amongst the other safety gear we also liked the ergonomic Black-Diamond Deploy 3 shovel.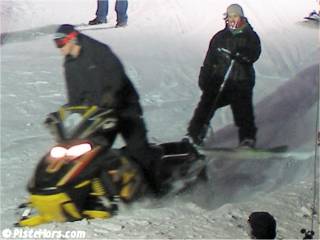 Dynafit have now expanded their TLT ski binding range to 7 models the most interesting of which is, in our opinion, the TLT Speed Lite which dispenses with the rarely used heel riser and brings the weight down to within 50 grammes of the Titanium racing version. The TLT Vertical FT also picks up a Volvo award. Swiss binding manufacturer Fritschi have recognised that only a cigarette paper separated the Explore from the Freeride binding, something the market had also noticed. For next season the completely revised Diamir Freeride Plus promises the safety and performance of an alpine ski binding; features that impressed the judges of the European ski awards.
Amongst skis we liked the "rootsy" feel of the Stelvio models from Italian manufacturer Trab and the Dome d'Ambre from new French micromarque Titicaca. After a complete redesign last season Dynafit are already making major changes replacing foam with wood cores in their top end models.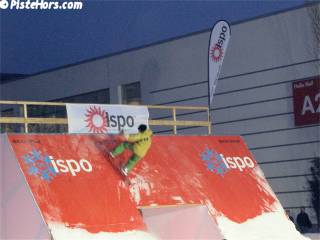 The big news in boots comes from Garmont with the Endorphin Mg and Xena. Freerando models with the latter especially designed for the morphology of women's feet. Scarpa have also launched the 4 buckle Spirit 4 and new Spirit models. The Spirit is said to be the spiritual descendant of the much loved but defunct Laser model. There was also a funky Tornado limited edition model. The Tornado has also won an European ski award.
Well that is just a taster, we will be covering these products and many more in detail over the next few days.
Posted by
davidof
on Wednesday, 01 February, 2006 at 11:17 AM
Comments are now closed