Revision for the Pure
The innovative Silvretta Pure ski touring binding certainly picked-up a large number of awards from the industry last season but failures with the alloy toe-piece and binding height adjustment bolt left some ski tourers fuming. Silvretta decided against a general recall for the Pure to address these issues. We were told that there were not sufficient failures to warrant this. However the company and their suppliers were reactive in replacing breakages.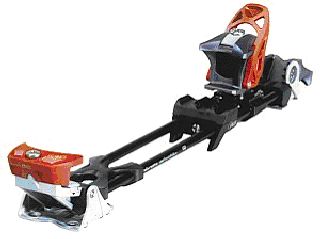 The Silvretta Pure
There are three revisions of the binding now on the market. The original binding, the first release of the 2005 binding sent out as a replacement and the official 2005 model. They are almost indistinguishable so watch out when purchasing. The 2005 model is clearly marked with a red circle on the pivot point.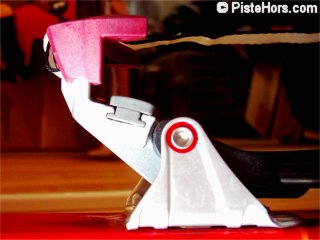 Looking underneath the toe piece the pivot housing has been beefed up slightly and is now rounded. This addresses breakages at this point. The toe piece height adjustment bolt has been lengthened by 3mm. Certain touring boots left little of last year's bolt in the binding. The top of the toe piece could then rip out on turns stripping the threads on the bolt and leaving skiers with a long walk home. The link-bars have also been strengthened. The heel lock has been altered to centre better and reduce play, two complaints from last year's design.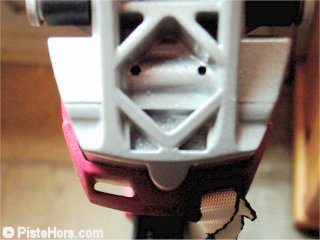 We spoke to Barthélémy Ski (Barthélémy Ski : 5 r Haxo 38000 Grenoble 04 76 44 07 54) who already have two years experience with this binding and had the new model out on hire last season. They told us there were no problems thus far provided the bindings are used for the purpose intended.
At around 1360 grammes, the Pure is the lightest of the traditional alpine touring bindings that can use standard ski or ski touring boots. Optional brakes and crampons are available. The binding features a pivot point set back from the toe for easier touring. Release is from the rear binding, this can either slide backwards on the link bars releasing the boot at the toe (unlike the Diamir, the toe piece is fixed) or vertically at the heel. Both use standard DIN settings.
Despite testing teething problems with bindings are not uncommon in early versions. We reported on toe-piece, link-bar and cocking lever problems with the Naxo nx01 earlier in the year.
The Silvretta Pure from Backcountry.com


The Silvretta Pure Alpine Touring binding is mind-bendingly light and has a unique pivot point mounted under the ball of the foot for a natural, comfortable stride with less moving parts.
Posted by
davidof
on Thursday, 21 October, 2004 at 05:17 PM
Comments are now closed