Ski-Areas > Northern Alps > Savoie (73) > Maurienne > Le Corbier > Le Corbier Off Piste
Vallée Perdue
The best known area of off-piste skiing are the many bowls and couloirs below the Plan des Chamois and Plan de l'Oullaz. These north-east facing slopes lead into a valley stretching from the summit of the Ouillon down to the road that links le Corbier with la Toussuire. This valley is called the Vallée Perdue or Lost Valley and a black run from la Toussuire runs along the bottom. The slopes should only be attempted after a visual reconnaissance from the top of the pistes of la Toussuire as there are many rock bars and cliffs. The area has also been the scene of a number of avalanche accidents and falls in bad visibility. Your group should be equipped with an avalanche transceivers, probes and shovels before attempting any of these routes.

Click for Vallée Perdue detail
One of the most popular itinaries into the Vallée Perdue is "le Pipe" which is accessed from the Plan des Chamois drag lift. The run starts in a large natural half pipe which narrows to a steep sided gorge. The drag lift is off to your right at the entry to this gorge. Be very careful about cliffs to your left as you ski down the mountain.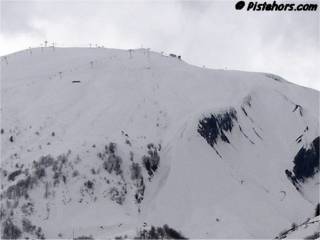 Le Pipe
Envers du Corbier
The couloirs below the Plan des Chamois down to the Envers du Corbier offer some other off-piste possibilities with some small brushwood providing references when the weather conditions are poor. These trees are too small and widely spaced to aid slope stability when there is a risk of avalanches.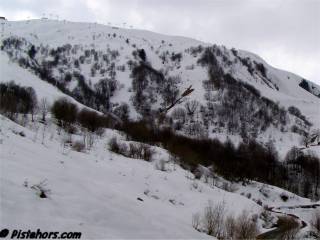 L'Envers du Corbier
Mont Corbier south-east face
From the summit of Mont-Corbier (2265 meters) a wide east to south-east slope offers some between the pistes skiing down to the Petite Vadrouille drag lift.
L'Ouillon
The Ouillon used to be a short ski tour but is now reached by the Ouillon 2 lift, part of the les Sybelles links. It is possible to ski from l'Ouillon down into the Vallée Perdue down an north east facing bowl angled at around 25 to 30 degrees.
Mont Charvin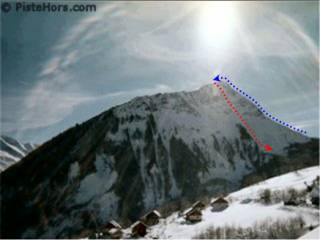 Mont Charvin N/W couloir
The north-west couloir from Mont Charvin (2207) meters was skied by Eric Carquillat in February 1982. In fact it was a double first as it was the first recorded solo climb of the mountain in winter. The mountain can be climbed from the col des Arves via the west ridge. The couloir offers 500 meters of skiing and is angled around 50°. It should only be attempted by experienced extreme skiers in good conditions. Take a rope for possible abeils as well as crampons and an ice axe.
See Also
<< Le Corbier History | Le Corbier | Vallée Perdue >>