Ski Areas > Northern Alps > Belledonne > Rivier d'Allemont
The col du Glandon is closed in the winter and early spring from just after the Rivier d'Allemont. This small Oisans village used to have a couple of drag lifts but they were taken down when the ski areas of Vaujany and Oz-En-Oisans were developed.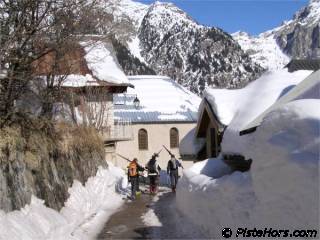 le Rivier
There is parking for around a dozen cars below the church on the main road.
Ski Touring
Trafford Leigh Mallory
On the 14th of November 1944 wartime air commander Trafford Leigh-Mallory, younger brother of George LM of Everest fame, was travelling by plane from Britain to India. He was due take up command of British forces in South-East Asia. The valleys of the Oisans were blanketed in 2 meters of snow and the plane was flying in poor weather when it hit the mountains above the Rivier d'Allemont. The villagers heard the explosion but despite a search the wreckage was not found until the 7th of June, 1945. Leigh-Mallory was travelling with his wife and all were killed. The crash was blamed on the poor flying conditions.
<< Glandon | Belledonne | Allemond? >>