Ski-Areas > Northern Alps > Isère (38) > Belledonne > Les Sept Laux > Off Piste > Dent du Pra North Couloir
The Combe du Pra is now part of the Sept Laux's backcountry area. When the resort is open skiers should check that avalanche clearance work is finished before skiing in this sector. Clearance is either by helicopter or by avalancheur. The North facing bowl holds its snow well, despite catching the sun from early morning in the late spring. Snow can usually be found from 1750 meters even in mid-June. Apart from the Pra back bowl anyone prepared to fix skins can reach the Cime de la Jasse and Dent du Pra (rated 3.3).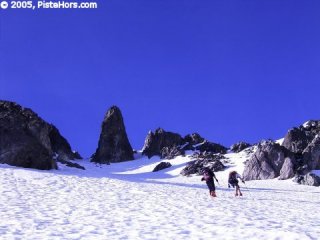 Luc and Bubu climbing to the Dent du Pra
After the resort closes towards the end of April, and as the snow melts, skiers can climb to the Oursière chair lift by car via a track situated at the end of the station. This saves about an hour of portage from Pleynet. By following the névés, skiable snow can usually be found just 20 minutes from the car.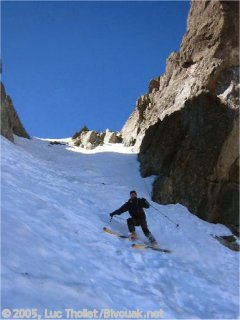 David in the North Couloir
The climb up the Combe follows the valley (Thalweg) with a short descent over a shoulder. It is not difficult although the north Couloir of the Dent du Pra is angled at some 40° for the last 80 meters of climbing. There is often a cornice. The summit is found to the right of the couloir and is marked by what appears to be the remains of an iron cross. The summit can form part of a tour on the south facing slopes to the Belle Etoile and Pic de Cabottes. The couloir is somewhat technical skiing, being very narrow and with a number of rocks which can trip skiers when snow cover is limited. After that the skiing opens up onto large 35° slopes. A direct couloir (rated 4.1) can be found down between the cliffs.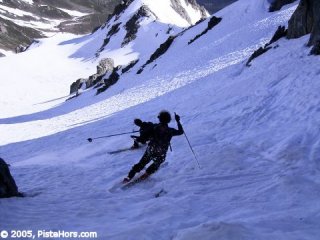 Les Lucs in the Dent du Pra North Couloir
If the North Couloir of the Dent du Pra is too technical skiers can traverse across to the easier Col de Voutaret (rated 3.1). The bowl also gives access to the north side of the Cime de la Jasse.
<< Les Sept Laux Off Piste | Les Sept Laux | Combe du Pra >>