Ski-Areas > Northern Alps > Isère (38) > Oisans > l'Alpe d'Huez > Off Piste > Alpe Huez Les Cheminees De Mascle
One of the more extreme routes the "Chimneys" have become much more accessible, and skied, since the Marmottes 3 DMC cable car was installed in 2004. The route consists of two couloirs, both clearly visible from the main ski area. Looking down the mountain the left hand couloir, which is the most easily accessed, is the steeper of the two with short sections around 50°
The Chimneys
This couloir can be access by turning right out of the cable car top station and climbing over a fence.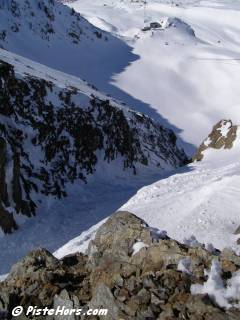 Left Chimney
The right chimney is found by turning left out of the cable car station and climbing a short slope.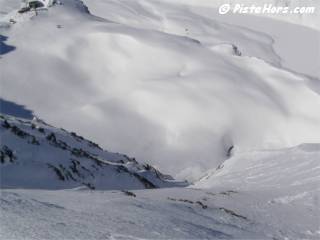 Right Chimney
The couloirs are west facing, very slightly angled to the south. However they are quite deep, especially the left couloir and only see the sun in the afternoon. There is a risk of ice, or worse, frozen tracks, early in the day and a fall would be practically impossible to stop. Although the couloirs are relatively straight with a benign run out you would probably hit the sidewalls on the way down or be taken over rocks. There is also a risk of slab avalanche especially where there has been new snow and predominantly westerly winds over the previous days. The best time is in the spring, either on power or with transformed spring snow. In early winter there is often not sufficient snow cover over the rocks, especially in the left couloir.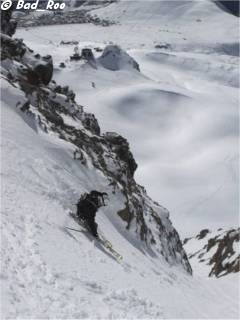 Bad Roo in the left Chimney
Description
| | |
| --- | --- |
| Mountain Range | Grandes Rousses |
| Summit | Pic du Lac Blanc |
| Altitude | 3323 meters |
| Orientation | West |
| Maps | IGN TOP 25 3335 ET Le Bourg d'Oisans - l'Alpe d'Huez |
| GPS Waypoint | N 45.1141°, E 06.1202° (3050 meters) |
| GPS Route | Google-Earth: |
| Grade[1] | Danger: 3, Climb: n/a, Ski: 5.1/4.3 |
| Comments | 41° over 250 meters |
| Snowboarders | There is a short walk to return to Marmottes II station |
| Equipment | Helmet, possibly a short rope and ice-axe |
| Guide Books | l'Alpe d'Huez Off Piste - Francis GINET and Fabrice VILLARET, Vamos |
| Author | davidof |
Comments
Add information about any outing here, include your name and the date of the outing
Contributed by _ on the _
<< Col de l'Herpie | l'Alpe d'Huez Off Piste | Pic Bayle by the Grand Sablat >>