Ski-Areas > Southern Alps > Hautes-Alpes (05) > Oisans > La Grave > History
Although it is widely agreed that the French had probably invented the sport of alpinism, the conquest of the useless (Amazon-UK:1898573387), with the ascension of the Mont Aiguille in 1592, it was the English who discovered the Alps. Admittedly they'd always been there and the people who lived in the villages hidden half alone in the deep valleys didn't need to go and discover what was self evidently all around. However since the start of the little ice age in the middle ages and the advance of the glaciers the mountains had become a poor and desolate place often thought of as inhabited by savages, brigands and saracens miners hunting for precious gems and metals.
It took rich young men and women of the English speaking world on their 'Tour' (a kind of Victorian gap year) to develop the conquest of high alpine peaks as a pastime. In June 1741, 8 intrepid Englishmen, dressed as Ottomans (perhaps they'd heard tails of the Saracens?) and heavily armed set out from Geneva. Led by Windham and Pococke they took three days to reach Chamouni. Fearful of the locals they camped outside the village where they kept their fires burning during the night and guards on permanent watch. The account of their journey put Chamonix on the map but it was the Savoyards, then an independent state, who put up the first climb of Mont Blanc in 1786, although it had more a scientific than sporting aim. Alpinism really took off in the mid 19th century with the visits of Whymper on the Matterhorn and Ecrins, Walker and Mummery in Chamonix, Coolidge in the Oisans.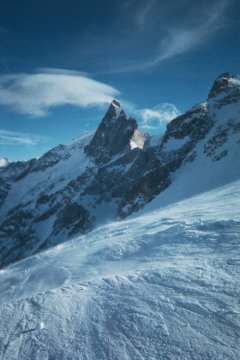 The more technical peaks were still to be tamed, amongst them the queen of the Dauphin region; la Meije. This was a chance for the French to recover some pride. Standing some 3983 meters above sea-level la Meije is not the highest peak in the range, that honour goes to the Barre des Ecrins which reaches to 4102 meters and had been climbed by Whymper and his Swiss guides. However la Meije is technically much more difficult.
Gaspard de la Meije
On the 16th of August 1877 the young Baron Emmanuel Boileau de Castelnau set out with Pierre Gaspard, a guide from St Christophe en Oisans and his son. An experienced amateur climber, Boileau has already made a tentative on the Meije in 1875 in the company Henry Duhamel. Duhamel had later declared the peak impossible. 'The new team reached the summit after two days of difficult climbing. Gaspard announced triumphantly to his partner, "that's it, Sir, the only thing higher than me now are clouds! I've got one foot in the Romanche the other in the Vénéon". Boileau never climbed again but Gaspard passed into legend. In 1914, aged 80, he climbed la Meije one final time.