Ski-Areas > Northern Alps > Haute-Savoie (74) > Chablais > Flaine > Flaine Off Piste
The Gers Bowl
This is a large secured un-pisted bowl served by the Gers drag lift. The main run is the black Styx. Anyone remembering their Greek mythology will know that the river Styx separated Hades from the the land of the living. A river not to cross too early so remember to look at the avalanche warning and remember your transceiver, probe and shovel.
At the bottom of the bowl is a flat track that leads to the Lac de Gers refuge. It should be noted that the drag lift is quite late opening so staying here means you won't lay first tracks in the bowl the next day unless you have climbing skins
The Veret Bowl
Accessed initially using the 8 seater Grand Vans chair then the Véret drag lift this is another unpisted bowl. You can also ski down to Gers from the Tête de Veret. You need to traverse left under the Balacha and then ski down to the bottom Gers drag.
The Black Diamond
The Diamant Noir is another unpisted run with a number of variants accessed from the Grand Platières cable car.
Jules Run
La Pente à Jules is a between piste run between the Grand Platières cable car and the bottom of the Lapiaz drag lift.
The Agate
The Agate is an unpisted run that descends from the Tête de Lindars to the right of the Lindars North chair lift.
The Colonney
From the Lindars North chair climb along the ridge, you reach the Col de Tré l'Epaule, you can stop here to ski the northern bowl or continue to the Tête du Colonney.
Danger - Crevasse!
The whole of the Flaine bowl is chalk based. A chemical action of water and salt deposits erodes large holes in this rock, rain water then runs into these holes further eroding the surface into large irregular channels, this surface is known as Lapiaz (sometimes Lapiez in the Savoie). From the point of view of the skier or snow shoer going off-piste the dangers are the same as crossing glaciated terrain. Snow bridges of varying strength form across these fissures and particular care should be taken early in the season or in seasons with poor snow fall. There are deaths and serious injuries every year.
Flaine Off Piste Route Map
Our Flaine Off Piste Route Map shows the principal runs.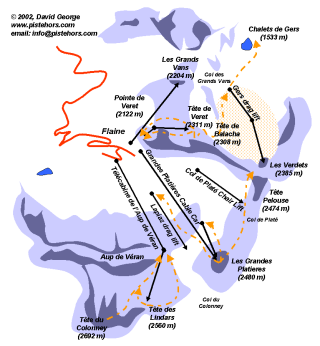 << Flaine History | Flaine | Flaine Off Piste Route Map >>