Gear > Ski > Freerando > Freerando Boots > Garmont Shaman
New for 2008 the Garmont Shaman is a cross-over alpine / backcountry boot. It is the kind of boot that suits an active skier who has to run around resort, likes to ski off piste and also plans to climb a bit from lifts looking for powder stashes. The boot debuts the Cizeta Free-Ride liner which is based on the G_1 racing boot liner but with more volume for skiers who will spend all the hours the lifts are open in their boots. This self-molding malleoli anatomical liner couples precision with comfort. The boots are pretty stiff, they would be ideal coupled with some of the freeride skis we've reviewed.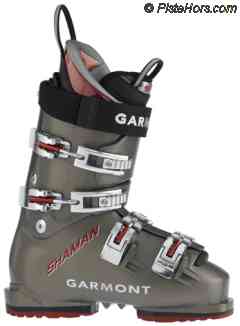 Shaman: heap big ski boot
The boots come with both a dual-material ISO alpine sole - works in standard ski bindings and a rockered ski touring sole. There is a new underfoot shock absorbing wedge to soak up vibration. The boot does not have a ski/walk mode, this obviously simplifies the design but it remains to be seen how comfortable the Shamans are for extensive boot packing. With the 4.9 kg weight this is not a touring boot - extensive skinning will not be that enjoyable. Having rippled buckles in the past we like the field replacable bolts used on all buckles. The Shaman is named after the American Indian medicine man, these boots should work their heap big magic for Garmont amongst the Chamonix big mountain ski tribe.
4 Magnesium buckle with powerstrap - attached with easy to service T-Nuts.
Weight: 4900g in 27MP, per pair
Sizes: 25-30.5
Price: € 475.00
Manufacturer: Garmont
<< Garmont Radium? | Freerando Boots | Garmont Xena >>
---