bio > Pierre de la Gontrie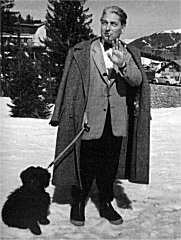 Pierre de la Gontrie (b 1902, d 1971) radical-socialist politician and lawyer by profession Pierre de la Gontrie was a representative on the regional council for la Motte Servolex from 1938 to 1951, president of the Savoie general council from 1945 to 1950 and mayor of St Bon Courchevel from 1947 to 1968. Between 1958 and 1968 he was also a senator with the democratic left. He was one of the main actors in the construction of the ski resort of Courchevel having proposed the idea at the first sitting of the Conseil Général of the Savoie after the 2nd World War.
"For the first time a departmental assembly has had the courage to see the bigger, beautiful picture" - 26 November 1946 after the vote for credits for the creation of Courchevel 1850.
<< Laurent Chappis | bio | Leo Lagrange >>