Articles > Environment > Snow Canons
To counter climate change ski resorts are turning to heavy weapons: the snow canon, although the industry prefers the softer term of snow-making. It seems anachronistic to combat an effect many believe created by the burning of fossil fuels with yet more outlay in energy. Currently 15% of the French ski area is covered by canons and it is not just low lying areas. Tignes has equipped the bottomof the runs of the glacier du Grande Motte with snow making at 3000 meters and Val d'Isère will do the same next year on the Glacier du Pisaillas to assure the summer skiing. 58 million € was invested in snow making in 2003, 20% of the total investment in ski areas. In the Southern Alps a large proportion of this comes from State and European sources. In some resorts, such as l'alpe d'Huez, snow making now consumes more power over an average season than the entire lift system. Most of the current snow making installations require low temperatures to operate. That means running them at night. Apart from the visual impact, a snow canon emits between 60 to 80 decibels, the equivalent of heavy traffic. This noise also disturbs wild animals.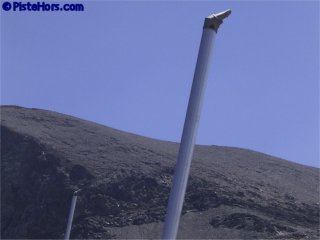 Day of the Snow Canons
Artificial snow is much denser than natural snow. It takes a meter cubed of water to make two meters cubed of snow. This snow has an effect on the vegetation and melts much later than natural snow. It is estimated that snowmaking in France uses as much water as a town with 170,000 inhabitants. Everyone knows that water freezes at 0C but the rainwater found in reservoirs has to be cooled to around -7 to -9C before it will freeze and make snow. To make snow at warmer temperatures agents such as Snomax™ are added. Snomax is a protein, it provides a nucleate for ice crystals enabling freezing at temperatures around -3C. York International say that Snomax is completely safe but only limited studies have been made on the overall effects of these additives on the environment. Despite the construction of reservoirs snow-making uses vast quantities of water with consequences on a region's water courses and aquatic wildlife.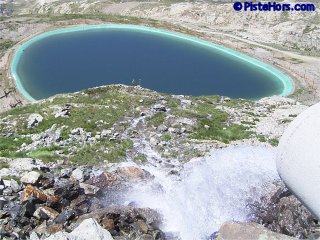 Artificial Reservoir for Snow Making
In a further twist snow acts as an insulator. It is not uncommon to find running water in the mountains when they are blanketed by a thick layer of snow as the ground will often be around 0 centigrade. However in dry winters with little snow the temperature of exposed ground can plummet locking any free water up as ice. Impossible to use for snow making or industrial or domestic supplies. In the winter of 2006 the town of Saint Gervais under the shadow of Mont-Blanc ran short of water for this very reason. Conflicts over water resources look set to be one of the issues between residents and ski resorts in the Alps in the early 21st century.
<< | Environment | Unités Touristiques Nouvelles >>