Articles > Off Piste Insurance > Insurance For Backcountry Skiing And Snowboarding
To some extent the answer to this question depends on where you live. I will assume that you are an EU resident. If you live in the British Isles (including Ireland) the first problem is that insurance companies seem to view anything more than watching football on the TV as an extreme sport and subject to all sorts of exclusions and provisions. You may also find that you have existing insurance that covers some, but not all of the points outlined above. House policies may offer third party liability, but then might consider off-piste as outrageously dangerous. In fact, in France, four times as many people drown over the summer swimming in the sea than die off-piste in the whole year.
French based insurance companies have a more open attitude to sport and will usually cover you off-piste as well. However it is safe to assume that if you haven't been expressly been insured for an activity you are not covered. Thus off-piste skiing and boarding may be covered but ski mountaineering not. Also many sports policies, particularly those from French insurers such as the popular Carte Neige only cover you while you a practising a sport. Fall over in the hotel bar and you could still be looking at a sizable bill.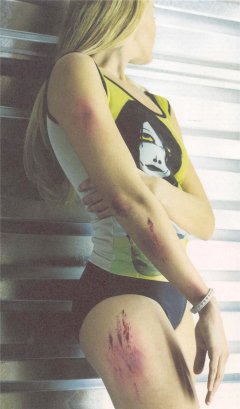 Even a minor accident may need treatment
You have to watch the exclusions and provisions very carefully. For example if your stay and that of your companions is cut short you may be entitled to compensation for unused lift passes, but only from the date on the post mark of the letter returning the unused passes to the insurer. Apply once you get home and you will get nothing. Similarly lift closure may be covered but only when over 80% of the lift capacity is closed. These are maybe of secondary interest to us as we are principally looking for off-piste cover but watch out for policies that cover you off-piste but only with a guide or ski instructor or limit your altitude to 4000 meters or non-glaciated terrain.
Finally there is no point being covered twice, although for basic third party cover you will often find you are covered by your household policy, your sports club and your winter sports insurance. You can only make a single claim for any insured risk, although you can choose the policy that gives you the maximum benefit.
French Policies
The vast majority of French sports policies are backed by Zurich insurance and Mondial Assitance with the Vieux Campeur using Generali France with Europ Assistance. You would therefore assume that you could get the best deal by going direct to these groups and indeed both offer insurance policies that can be bought over the Internet. However the policies developed with sports clubs are generally better adapted to the needs of those going off-piste.
The most simple way to be insured for winter sports in France is to buy insurance with your lift pass. This is called the Carre Neige and is also available in an annual form the famous Carte Neige. This insurance was developed by the Savoie ski committee and the French Ski Federation and is backed By Zurich Insurance. It is available to anyone living in a European country. The cost is 2.5 Euros per day or around 35 Euros for the annual cover. On and off-piste skiing and boarding are covered as are other sports. A Carte Neige and a valid EHIC should be sufficient for most on-snow accidents however the Carte Neige medical expenses are limited at 3800 Euros (2006 winter) which will not be sufficient for more serious injuries.
Zurich also provide the insurance for the FrenchMountaineering Federation (FFME) and the Club Alpin Francais (CAF), both provide policies particularly adapted to those venturing off-piste especially where mountaineering is involved and are available to non-French residents, although the FFME require a medical certificate and both polcies now only cover piste(!) skiing and boarding as an option otherwise cover is similar to the Carte Neige.
Remember that the above policies will not cover you for non-sporting accidents. For example a broken thigh after slipping on ice walking around the ski resort.
Finally the cheapest policy is provided by the VieuxCampeur, the Paris based mountain sports shop and backed by the Generali Group. This is open to all E.U. residents and of particular interest is the Option Vie Privee which covers you not only for a wide variety of sports but at other times as well. Thus you will be insured not only for the ascension of Mount Olympia in Greece but also for the bus ride up to the base of the mountain. The insurer seems to be particularly efficient. One person suffered an in-growing toenail in India which prevented them continuing with their holiday and Europ assistance arranged a doctor and treatment in a good hospital all covered under the policy.
British Policies
To begin with your credit card (ie Visa Premier) might offer you sufficient cover at least with regard to medical and other travel expenses. You need to check if there are any excluded activities but most will also cover the cost of on-piste recovery and as has already been stated the French government will pick up the costs of search and rescue if you are ski touring away from a recognised ski domain. Of course the card companies don't do this out of the kindness of their hearts, you will probably have to pay for at least your lift tickets and possibly your holiday in order to be covered. I have had first hand experience with Visa premier after an on-piste accident requiring an overnight stay in hospital in Switzerland on Christmas day and found them to be very efficient dealing directly with the hospital.
Many people also have annual worldwide medical insurance, in this case it might by wise to buy either a Carte Neige or Vieux Campeur insurance (the basic price is 25 € for 2005/2006) to cover piste recovery and other incidental costs.
Specialist insurers for annual off-piste cover include Essential Travel, the BritishMountaineering Council, the Ski Club of Great Britain, Snowcard and Accomplish Travel. All these policies can be bought online. The Ski Club offers Single Trip and Annual Multi-trip insurance at three levels: Standard, Super and Executive. Each level covers off-piste skiing without a guide and the Executive level provides unlimited Winter Sports cover on the Annual policy as long as no one of the trips exceeds either 31, 45 or 60 days, depending upon which premium has been paid. Executive level cover has the additional benefit of no excess on any claim.
The BMC has a 93 day trip limit unless the professional option is taken. It also has an altitude limit of 6,500 meters but to be honest, this is the ceiling for practical helicopter rescue and as the late climber Rob Hall once commented, if you get into seriously difficulty above this height you may as well be on the moon.
Essential Travel ski Insurance have single trip as well as annual winter sports and seasonaires insurance, amongst the obvious of skiing and snowboarding the cover includes off piste and heliskiing as well as other activities such as cross-country and sledging.
Cheap Travel Insurance -Insurancebookers.co.uk is delighted to provide a wide variety of cheap travel insurance for all types of trip or holiday. All our travel insurance policies include cover for valuables, and are available in a wide choice of cover levels to suit your individual requirement.
Lift Insurance
Insurance companies don't like covering anything they didn't foresee in the original policy document. A recent case has come to light of a life insurer refusing to pay out to dependents where the deceased was killed skiing off-piste. In February 2006 a man was killed by an avalanche in the resort of Isola 2000 close to Nice. He was skiing off-piste, the avalanche risk was High (4/5) and there had been fresh snow. The insurers said his actions were tantamount to suicide and have refused to pay out under these circumstances.
<< Hospital Treatment of Ski and Snowboard Injuries | Off Piste Insurance | Comparison of Snowsports Insurance >>