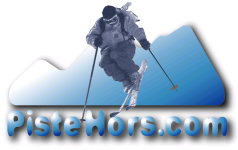 Posted on: 2021-01-31 19:40:44 by davidof
Avalanche fatality on the Pic Blanc du Galibier
A ski tourer has been killed by an avalanche on the Pic Blanc du Galibier. It is the second fatality in the sector this winter. Part of a group of two from nearby Grenoble the other skier escaped unhurt. The avalanche occured on the south facing couloir du Goulet at around 2700 meters altitude. The victim was carried several hundred meters downslope then buried by secondary avalanches. Eye witnesses started the search and had located the victim using his avalanche beacon by the time the PGHM from Briançon arrived by helicopter, some 10 minutes flight time from the slide.
Avalanche in the same sector today, illustrative of the fragile conditions in the area.

The avalanche risk was 3/5 (Considerable) on all slope aspects and warned of natural snow slides on non purged steep slopes exposed to the sun as well as the risk of slabs due to windblown and fresh snow.
Further Information: Photos from the sector

Comments