As you may have seen some resorts in France have already opened but this weekend things really start to ramp up especially in the Pyrenees and Southern Alps which were blitzed by stormaggedon last week-end, bringing a month's precipitation over a couple of days and causing widespread flooding lower down. The resorts on the French/Italian border also benefited from this storm bringing fresh snow to Val d'Isere/Tignes, Montgenevre and Puy St Vincent. Be careful, the off piste is still thin in places, especially below 2000 meters and higher up the avalanche situation is complex. There have been injuries in two separate avalanche incidents over the last week. Although avalanche bulletins are short on information Meteo France have spoken of "widespread spatial variability requiring good terrain reading skills" for safe travel - that means "it's complicated" in plain English. A number of snowfalls means that there are several layers already above 2000 meters with some weaknesses more or less buried. A single skier can trigger a small slab but this might subsequently trigger deeper weak layers.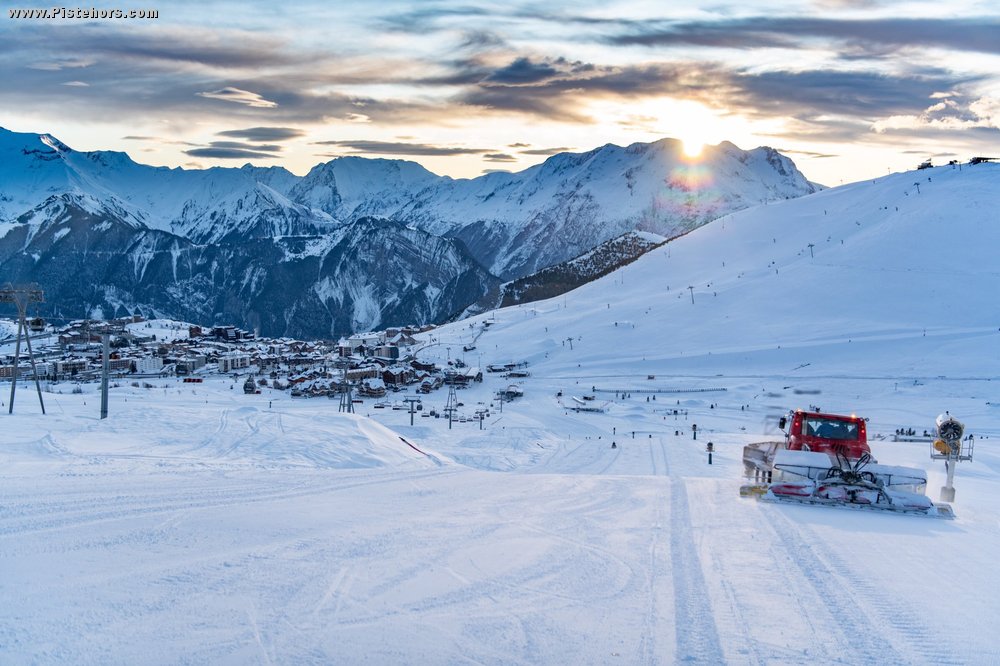 Piste grooming at l'Alpe d'Huez today
French Northern Alps
Les 7 Laux
has been open since mid month but they are opening pistes on the Pleynet side this weekend. Unfortunately the foehn/chinook earlier in the week blitzed the lower slopes but you can ski down to Pipay at 1600meters thanks to snowmaking. May close on Sunday if the weather is too bad.
Chamrousse
has also been open for a few weekends. It is a bit higher than les 7 Laux and conditions look good,
Alpe d'Huez
, European ski resort of the year, opened last weekend but they open for the season, non stop, from tomorrow. There are more runs open but it is really the main resort runs and the glacier. Tunnel not forecast to open. It has been snowing a lot at village level, and a bit below, this week and conditions look good.
Just across the valley
Les Deux Alpes
is opening for the season. They say the roads are clear but take chains in the car as it will snow Sunday. There is a reasonable amount of the mains lifts and runs open

Tignes/Val d'Isere have their season opening although Tignes has been open since mid October at glacier level. They advise snow tires and/or chains to access the resort. It is largely the high bowls that will be open and the link between the areas. There is already a meter of snow at 2100 meters in the area.
Val Thorens opened for the season last week-end, the first of the Three Valleys domains to open. They forecast the avalanche risk as Considerable (3/5) with 15cm of fresh snow. Apart from the avalanche risk be careful about concealed rocks off piste.

Avoriaz is looking white on the webcams, they claim 40cm of fresh snow and are opening 4 lifts and 8 runs in the Arare domain with free car parking. Lift pass office opens at 8h30. It will be chilly, wrap up warm.
Chamonix is opening Grand Montets but neither the Lognan nor Grands Montets lifts will open this season. There are 5 pistes open but the Pierre a Ric is closed.
French Southern Alps
Montgenvre
are opening 22 ski runs, including 2 blacks for the week-end. The avalanche risk is given as 3/5 (Considerable) out of open ski runs.
Puy St Vincent
are opening 3 chair lifts, 800 meters of vertical and 11 ski runs as well as a beginners area although no blacks among the runs
Auron
have 180cm of snow at the top of the mountain and 29 ski runs open
Isola 2000
- are opening 30 pistes thanks to the storm (retour d'est) with over a meter of snow in resort. Take care over the course of the weekend. There could be some large natural avalanche activity on Sunday and the resort give the risk as 3/5 off piste.
la Colmaine
- have a couple of runs open - ideal if you live in Nice and fancy a trip with the kids.
Pyrenees
Barèges - La Mongie
have 35 out of 61 pistes open thanks to last w/e's storms
Boï Taüll
(Catalonia) the highest resort in the Pyrenees, they say. On their Facebook: El sábado, ponte los esquí... ❄️🎿 ¡ABRIMOS! Which means, Saturday, bring your skis, we are open but I don't know any more than that.
Saint Lary
12 lifts open for the weekend, no idea how many runs but that sounds pretty good for the end of November.
Baqueira/Beret
already have a whopping 148km, 107 slopes over 4 sectors open until the end of the season.
Limited opening at
Grandvalira
and
Arcalis
. You can ski in the two Andorran areas plus you can stoke up on duty free, fags, booze and petrol. Get in!
Luz Ardiden
15 out of 29 runs open and 5 out of 9 lifts. 60cm of snow in resort. Roads are clear for Saturday.
Gourette
looks very white with 60cm of snow in resort.
La Pierre Saint Martin
70 cm of snow in resort and 21 out of 24 runs open.
Les Angles
have 20 ski runs and 15 lifts open
Font Romeu
They are open, I don't know what is open but there is 70 cm of snow in resort so it should be quite extensive.
Porté Puymorens
has been open since the middle of November and will have 3 sectors and 30 runs open for the weekend.
Cerler
y todo el desnivel de Cerler!!
❄️
⛷ whicc
which I think means "everything is open"
Formigal - Panticosa
102km open for the weekend
Cauterets
opened 80% of the ski area today with 80cm at the bottom of the runs.
Peyragudes
has 22 out of 49 runs open, although no blacks.
Artouste
is open, there is a lot of snow, you may want to put your chains in the car.