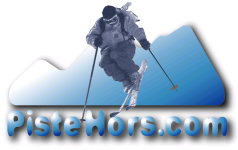 Posted on: 2020-10-12 07:23:47 by davidof
Avalanches at Tignes and Mont Blanc
Anyone who watches the webcams this autumn will have seen that there has been a slab avalanche above the pistes at Tignes on the Grand Motte glacier. It seems the fresh snow between Friday and Saturday (10/10) formed a weak layer and a slab of snow broke away. The slide may have been triggered by piste workers who are grooming the fresh snow but there is no evidence of explosives. There also appears to have been a slide on the glacier to the right of the photo.
More serious. Edy Grange has reported on the Data Avalanche website that a group of freeriders (on skis and snowboard) triggered a slab type avalanche at 3300 meters altitude climbing the Couloir des Allemands on Sunday. The couloir leads to the classic Glacier de Toule descent. The group had already skied the Epaule d'Entrèves without incident. The group was rescued by helicopter with three transported to hospital with knee injuries.
There has been considerable fresh snow at the start of October at altitude often accompanied by strong winds which are creating unusual avalanche conditions for the time of year.

Attachments

Comments