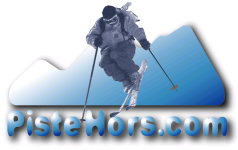 Posted on: 2019-01-30 09:25:22 by davidof
39 skiers airlifted from the Gorges de Malpasset, Val d'Isère
Just the name, Malpasset (difficult passage) should give you a clue but not to the skiers and snowboarders who had to be airlifted out of the Gorges yesterday afternoon despite signs at the entrance warning that the Gorges were "impassible". It seems that first one group decided to ignore the warnings of this notorious off piste route (numerous deaths and injuries over the years) and others followed. 39 people, French, Spanish, Russians and Brits, from various groups found themselves stuck yesterday afternoon in the narrow valley between sheer cliff walls.
The route is only possible on skis once the avalanches on the slopes above fill in the gorge. The rescue services said they'd "never seen anything like it, it was the biggest airlift they remember from the spot". The difficult operation took two hours in total. The stricken skiers, were dropped at le Fornet where they were then given an expensive bill for their short helicopter flight.
So remember: don't ignore warning signs and don't follow tracks!
Location
Comments