This weekend saw the season start with the opening of Val Thorens and Val d'Isere and also the first avalanche incidents of the season as up to 50cm of fresh snow fell at altitude in the Western and Southern French Alps accompanied by high winds from the south. Meteo France warned of weak layers in the existing snow-pack an an "substantial" avalanche risk.
On Saturday ski tourers around Grenoble reported slabs at altitude in the Belledonne mountain range with a skier triggered slab of around 50cm depth near the summit of the ski runs at Chamrousse. In the Alpes de Haute Provence a French Alpine Club group were ski touring in the Caire Brun sector at around 15h00 when one of the group was taken by a large slab avalanche. Buried up to his neck he was rescued by his colleagues by the time the rescue services arrived at the scene. He was wearing an airbag which he had activated.
On Saturday two ski tourers were caught by an avalanche on the Punta Rognosa. The slide occurred around 13h00 at 3000 meters altitude. The men were recovered without injury by the rescue services but fearing more casualties a major search operation was put in place lasting until nightfall. Italian police said around 30 to 40cm of fresh snow had fallen in the area overnight. In the Mont Viso sector another ski tourer suffered light injuries in an avalanche. The rescue services reminded skiers that the season is long and that skiers should not rush into skiing when the conditions were suspect. The mayor of Sestrières, where the above two incidents occurred didn't mince his words saying the skiers were taken risks that would be obvious "even to a 5 year old".
Further Information
Croix de Chamrousse, par les pistes depuis le Recoin
Caire Brun avalanche photos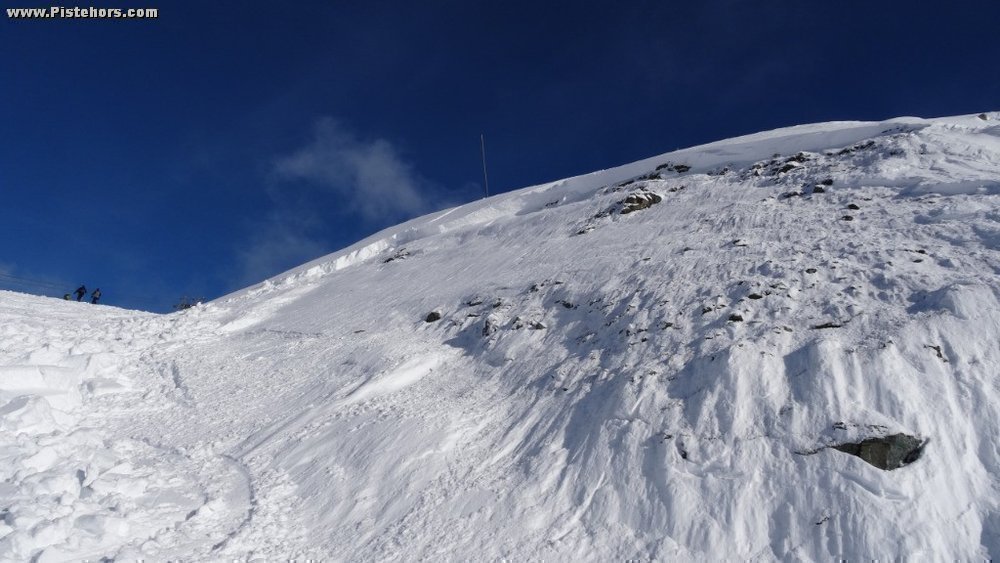 Photo Toz / Skitour.fr