Biathlon, an exciting mix of target shooting and cross country skiing, is the Number One winter sport in Europe and its popularity is increasing. The European Broadcast Union says that viewing figures for Germany, Austria, Czech Republic and France are up 50% since 2013. The French l'Equipe TV get their highest ratings for biathlon with up to 1.5 million watching events in the 2018 season. Scottish biathlete and Eurosport commentator Mike Dixon says that between 100,000 and 300,000 Brits tune in to their coverage.
It is easy to understand the popularity. Lycra clad gods and goddesses gliding around pristine snow covered forests and pastures, reaching speeds of up to 70km/h descents on skinny skis while carrying a 4kg long rifle. A single missed shot means a penalty loop, 150 meters of pain and shame that can turn a race on its head. Fans of most sports may be divided into pure armchair spectators and weekend warriors. Anyone can kick a football around or play five-a-side with friends or ride a bike. Biathlon is not so easy to get into, even in the Alps it is generally restricted to skiers on the elite competition track. That's not surprising. You are shooting a target rifle that costs thousands of dollars and the .22 rounds may be tiny but they travel at supersonic speeds and can punch through wood, or bone, and are potentially lethal.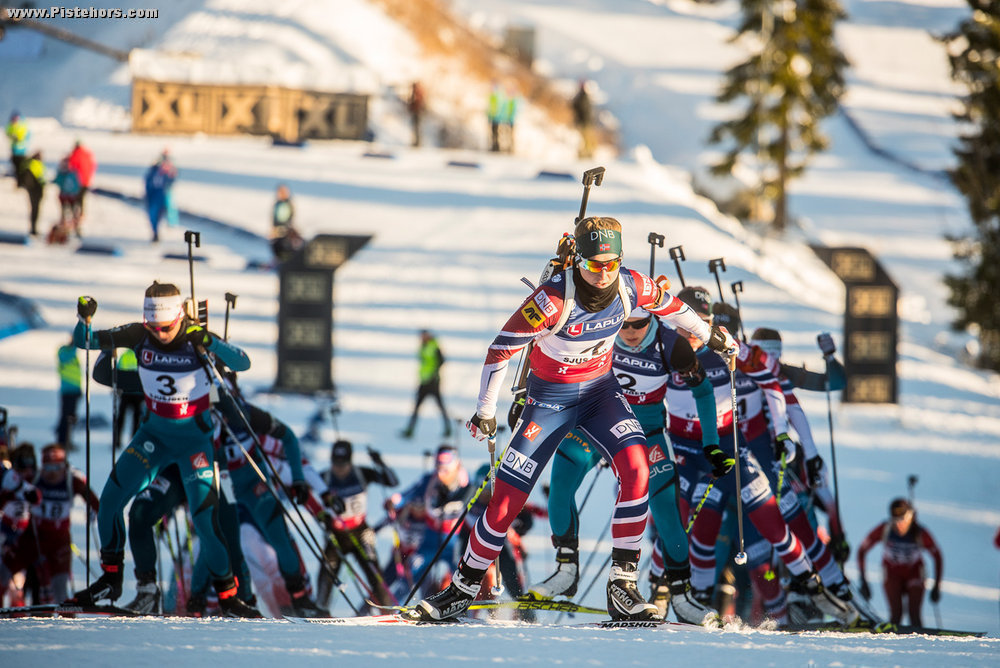 Biathlon, one missed shot can make all the difference
Some ski schools offer taster sessions to the wider public but frequently with laser rifles. Over the last couple of seasons an organisation called Alpinum Events based in the French Alps has started offering longer introductions or improver courses. This summer they teamed up with husband and wife team Lois Habert and Marie Dorin. Lois is a former world cup level skier and Marie is multiple World champion and current Olympic gold medal holder. They are currently setting up a sporting hotel complex in the Vercors called Zecamp and doing some coaching in their spare time. The idea is to offer a gateway into the sport of Biathlon to both beginners and more experienced skiers outside of the normal club route.
I ski a bit of cross country and have done some roller skiing. Roller skiing is the dry land equivalent of cross country skiing on snow. Skis are replaced with a shaft that is 53cm or longer with wheels at either end. Normal ski bindings and boots are used. Wheels are either thin, like rollerblade wheels, and used for skating or squarish with with ratchets to stop them rolling backwards, used for classic. Rollerskiing first appeared in the 1930s in Europe but remained somewhat marginal, largely used by competitors for summer training. The first World Championships were only held in 1998. Today there are competitions throughout the summer and it has become a sport in its own right. A number of special roller-ski circuits have opened with shooting ranges and there is increasing interest from recreational skiers as a way of keeping fit and improving technique out of the winter season.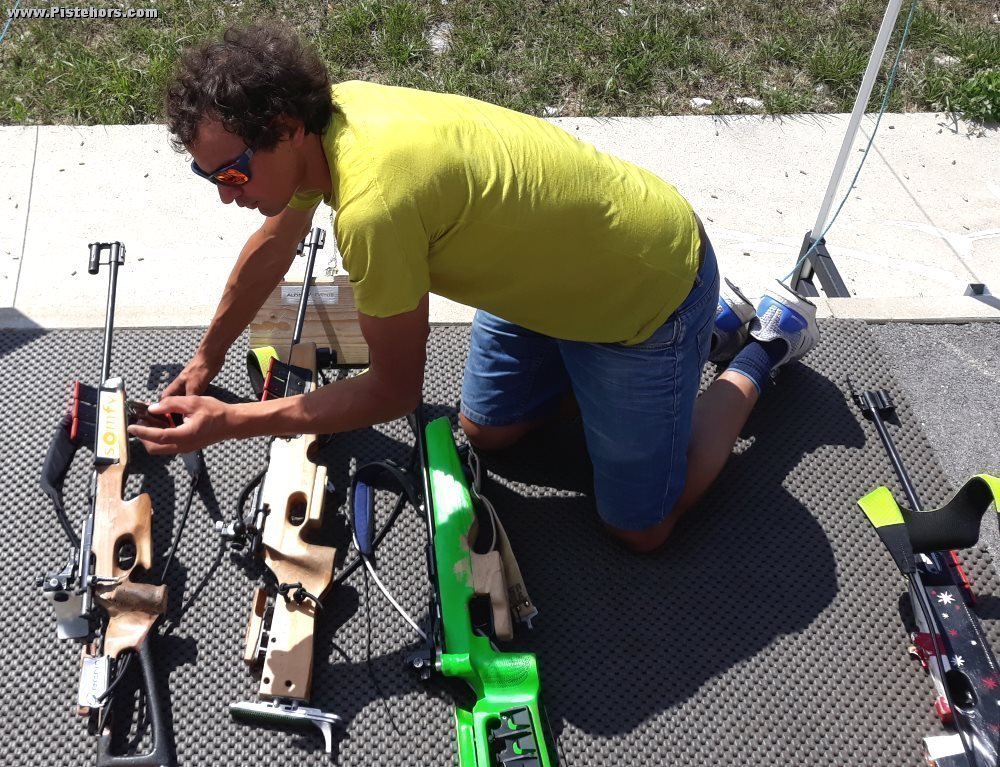 Loïs Habert, every gun has a story
I signed up for the beginner biathlon course, held in August on the roller-ski track at Correncon en Vercors. This is a varied and technical circuit that is used by many national teams (including members of the US squad) during the summer and autumn. Absolute beginners were on classic skis (the fatter wheels are more stable) supplied by the rental shop at the circuit. Interestingly you can also skate on classic rollerskis, a couple of the participants with snow experience opted for this technique. I took my own Nordeex Snowfeeling skating skis and a couple of the other 8 participants who had either rollerskied or skated were also on skating skis. There were people who'd neither skied nor rollerskied.
The first day was focussed on the equipment, rifles, targets, gun sights and the shooting range. Safety is paramount although the session, led by Lois, was very relaxed and informative. We each had a rifle to use and every gun had a story. One had been used by Marie in her world cup victories, another had taken her to gold at Pyongyang. There were a couple of Russian Makarov rifles with their backwards gun sights that caused a lot of confusion.
The primary consideration when handling a rifle is safety. We learned to always keep the gun facing towards the shooting range and after finishing shooting to unload the magazine and open the bolt so there was no chance of a forgotten bullet being fired. The range has an approach straight in front and we also had to be careful to keep this free for other skiers.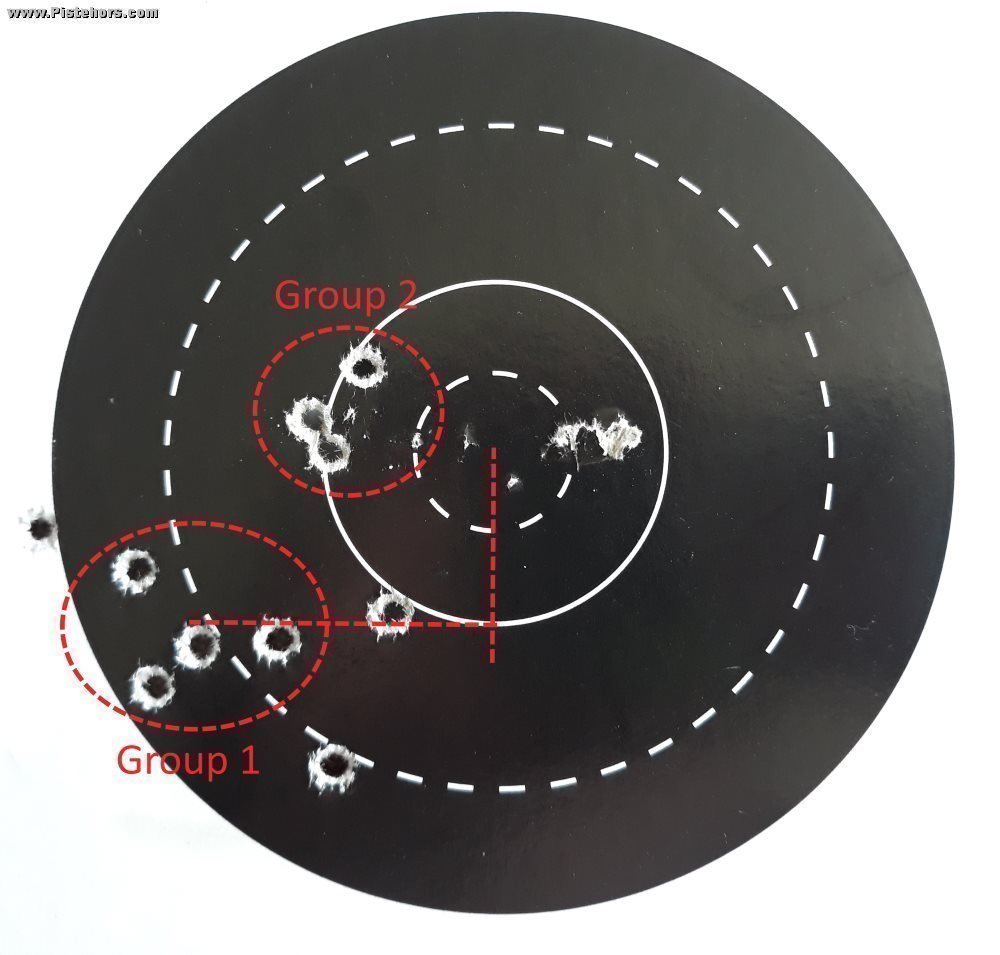 Sight adjustments
Before the shooting proper, the gun, or at least the sights need to be adjusted. It is a surprise to some, brought up on sniper movies, that biathlon rifles have plain iron "peep" sights. There is no magnification. You are shooting at a 45 mm disk (1.8 inches) in the prone position and a 115mm disk (4.5 inches) in the standing position. All this at 50 meters (55 yards). You have to be a bit of a William Tell. The targets are barely visible so the sights have to be spot on. A degree off at this distance and the bullet will miss completely. Looking through the sights you see a circle on the back and a dot on the front when the two align with the target, you fire.
We put up paper targets and shot five rounds, getting the feel of the staged trigger on the rifles. When shooting is going on no-one is allowed onto the range, instead you use a spotter with a telescope to evaluate your shooting, discarding any strays you try and identify a "shot group" and how far this is from the center of the target. Even the day's wind conditions can have an effect on accuracy. The sighting targets have a number of rings. For each ring you are away from the bullseye, you need to turn the sight adjustment screws three clicks. If you are down from the center you turn the vertical screw clockwise to raise the sight, if you are left the same with the horizontal screw. Except on the Russian guns, which were the opposite. My first group were south-west and need 6 clicks on the horizontal and three on the vertical. A second round of shooting showed the group one ring to the left, a further three clicks and I was good.
The rest of the 3 hour session was spent shooting at the prone biathlon targets, improving our speed and accuracy and we finished off with some roller-skiing around the fantastic Correncon tracks.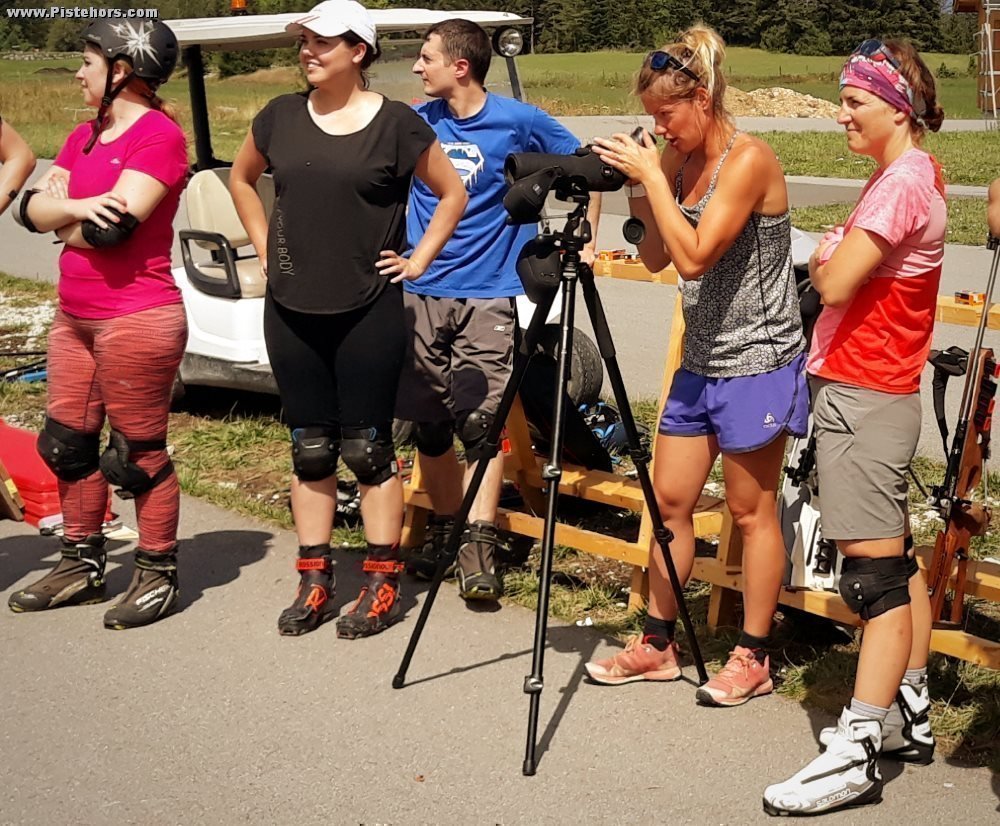 Checking grouping with Marie
Day 2 and thunderstorms threatened. We had the head coach of the regional ski team to help us improve our roller-skiing and the group was split into people who could already ski and beginners. Marie took the shooting sessions and it was great to discuss some of the nuances with a champion who was so relaxed and approachable. Roller skiing was principally a case of extending our glide as far as possible, it is much harder to balance on thin skating wheels compared to skis and any fault is magnified. Asphalt is also a hard master, one of the main factors that has limited the uptake of rollerskiing although with protection the falls can be mitigated. At the end of the session we were taken half way up the red and launched down what looked like a very steep slope where we couldn't see the end due to a long, left hand bend. "Don't worry, the run-out is safe" the coach told us but at 30km/h with wobbly legs easier said than negotiated although all four of us made it. The beginners were spared the experience. The great thing about these special circuits is all the slopes finish on flats or uphills to bleed speed. We skated back to the clubhouse under a torrential downpour, the storm had finally arrived.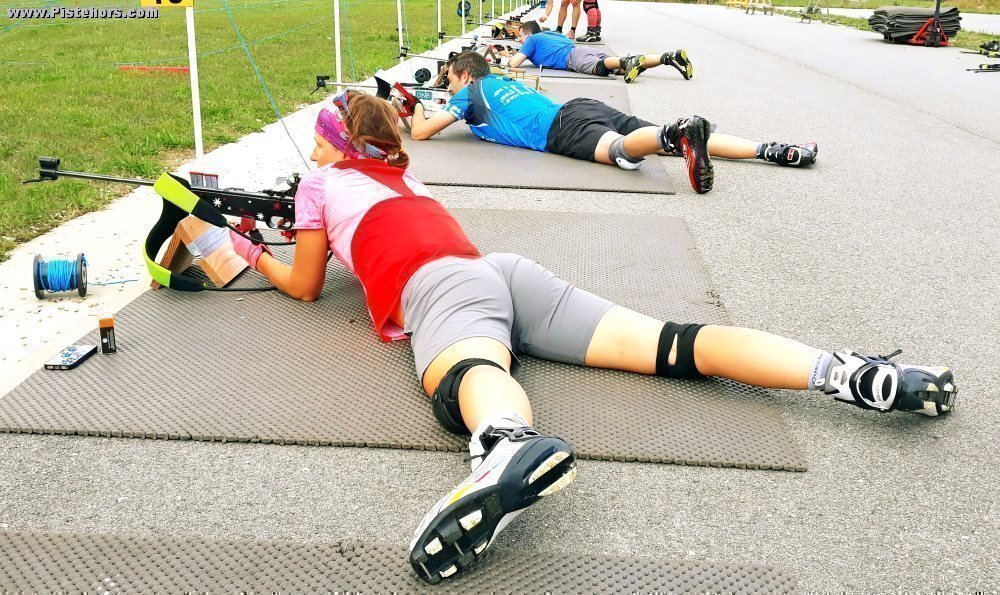 Prone shooting
Day 3 and the idea was to organise a competition with handicaps based on ski ability. We would shoot prone but at the large and small targets. The first race was the traditional sprint. The good skiers doing a big loop behind the stadium and the debutants just tackling the penalty track. Due to a navigation error I started the second pursuit race near the back. In this event skiers start based on their times in the sprint. The first shooting was on the easier, large targets and remember we were shooting prone. So I put a good effort into the skating catching Caroline on the first climb and clearing all five targets. I also discovered that simple "biathlon" straps are much quicker for changing between skiing and shooting. I set off just behind Amaury, who was pretty quick on his skates despite having only recently taken up roller-skiing. I decided to stay behind him as the second shooting, on small targets, was a lot more challenging. If you overdo the ski you come into the stadium with your heart racing and your breathing heavy. The gun will move down as you breathe out and up as you breathe in. We'd done a number of exercises early in the day and the trick is to shoot as you breathe out as the gun draws an arc across the target. I shot ⅘ getting a single penalty which meant I finished the race in first place. My first biathlon victory!
We ended the day learning about standing shooting. It is all about position, using the body to form a stable triangle. Hips tilted sideways and forwards, elbow resting in the hollow, stock firmly against the shoulder. Even so a 4kg biathlon rifle is a heavy beast after a few seconds, I found I could only shoot 2 or 3 targets before tiring. In a recent video Martin Fourcade said the major thing that was holding amateur skiers back is upper body strength and the off-season should focus on this.In the end I got all 5 targets down but with 15 bullets! Shooting clean as many of the top level competitors do, after skiing and poling several kilometers is really on a totally different level.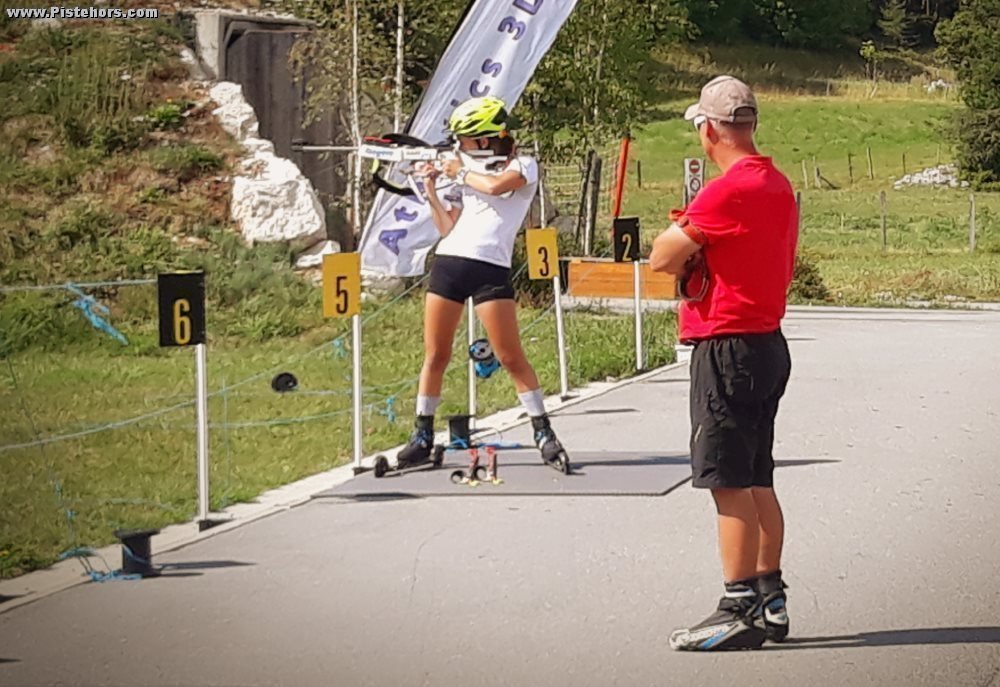 Standing positions, back arched, hips out and arms forming a triangle
We were all very keen to come back, either next summer or during the winter months. The relaxed three afternoon coaching, with two coaches on hand for 8 participants, meant that everyone could progress at their own speed. The session brought home to use just how exacting a sport biathlon is at the top level.
Courses
http://www.canmorenordic.com/programs/biathlon/ - Canmore Canada
http://www.glenmorelodge.org.uk/cat-29-biathlon/course-132-biathlon-beginner/ - Glenmore Lodge Scotland
Further Information
http://www.alpinum-events.com/blog/club-alpinum-saison-3
http://www.villarddelans.com/site-de-biathlon-de-correncon.html
http://www.facebook.com/LoisZecamp/
http://www.bbc.com/sport/get-inspired/23268663
http://www.rollerski.co.uk/ns026.html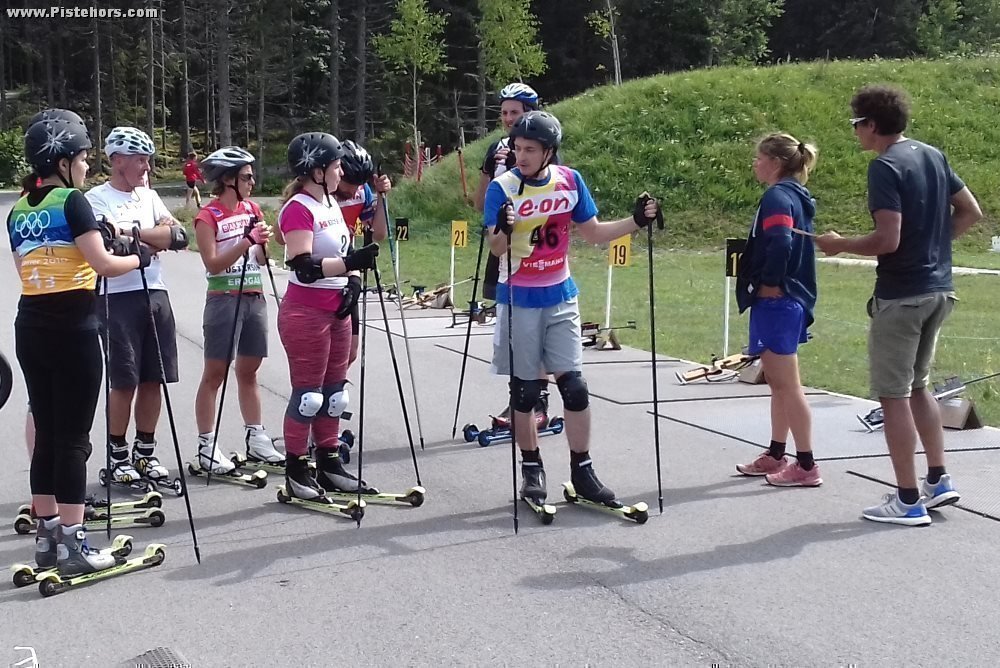 A day at the races