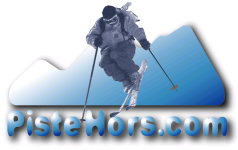 Posted on: 2018-03-24 23:41:28 by davidof
Bauges avalanche kills solo ski tourer
A solo ski tourer has been killed in the Bauges mountain range north of Chambery today. The rescue services were notified around midday when the 56 year old failed to return home. The victim was discovered partially buried by the crew of a search and rescue helicopter.
The skier was found in the north couloir of the Trelod (2181m) having triggered a slab avalanche. Named as Gérard Exertier and well known in the local ski scene he was described as "experienced", friends have said he knew the sector "like the back of his hand", but wondered if he had become too familiar with the routes. The enclosed couloir is between 40 to 45 degrees over 500 meters. The entrance is avalanche prone. The avalanche risk was Considerable (3/5) although the last fresh snow and high winds dates from mid-week.
Two ski tourers were also caught climbing the Mont Rond near to Valfrejus in the Maurienne. One of the skiers was taken by the large slide but not completely buried, probably due to his ABS. The avalanche risk was 3/5 and the incident occured at 2750 meters.
Comments