They always say that if your headline asks a question then the answer is probably no and so it is in this case as we'll explain. First of all a look back to last season which everyone remembers as appalling. There was snow around the 20th November followed by a foehn then a period of high pressure. Much like 2016 only the snow came earlier this year, on the 10th of November. That means that a lot of areas have now gone 6 weeks without any snow.
The problem is a stubborn anti-cyclone that is blocking Atlantic low pressures from bringing snow to the north of the Alps. This has also led to temperature inversions: cold in the valleys, warm at altitude with a very long period of pollution in the Alps. We've seen a few storm systems track across France only to be blocked as they approach the mountains, although the Massif Central picked up some snow on the 20th December.
There are some differences with 2015. The snowfall at the start of November was heavier but the subsequent foehn (a strong southerly wind) was more pronounced. 2016 has been colder at times which has allowed for more, albeit intermittent, snowmaking in ski areas: on the 18/19 December temperatures dropped to -10,5 °C at Bessans (Savoie) and -11,5 °C at Ristolas (Hautes-Alpes). Some areas, the eastern Alps in Austria and the southern Italian alps are doing okay. The snow is out there but very localized.
Here is some snow height data in cms for Les Contamines in the Haute Savoie for various altitudes (lescontamines.net)
Etape - 1450m
Ruelle - 1650m
Signal - 1880m
Aiguille - 2300m
23/12/2016: 0 10 10 20
23/12/2015: 5 10 20 30
23/12/2014: 15 10 25 40
23/12/2013: 15 25 35 45
23/12/2012: 75 95 160 195
23/12/2011: 100 120 160 200
23/12/2010: 35 40 70 120
23/12/2009: 35 45 80 140
23/12/2008: 55 55 95 115
23/12/2007: 55 55 120 150
23/12/2006: 10 - 30 40
From this it is clear that snow depths are the poorest for a decade. On the same day I calculated the open runs for the three Northern French Alps departments. I don't have figures for previous years.
Isere 21% of runs are open
Haute-Savoie: 11% of runs are open
Savoie: 42% of runs are open
(source: http://www.ledauphine.com/meteo/meteo-neige)
You can see that the Haute-Savoie, where les Contamines is located, is really suffering compared to the Savoie. That's because the "retour d'est" weather pattern has brought snow to the French / Italian frontier on the 25th November and again on the 20th December. In the Haute-Savoie this patten is blocked by the Mont-Blanc range and the Isere is too far west to benefit. As you drive up the Maurienne valley at the moment you pass from autumn to winter in the space of a few kms. The picture isn't entirely rosy. Bonneval, closest to the Italian border and highest has opened all its runs on natural snow, same for Montgenevre a little to the south. At Courmayeur on the Italian side of Mont Blanc 90% of runs are open. As you head west the resort runs at Val Cenis are open but on man made below 1900 meters.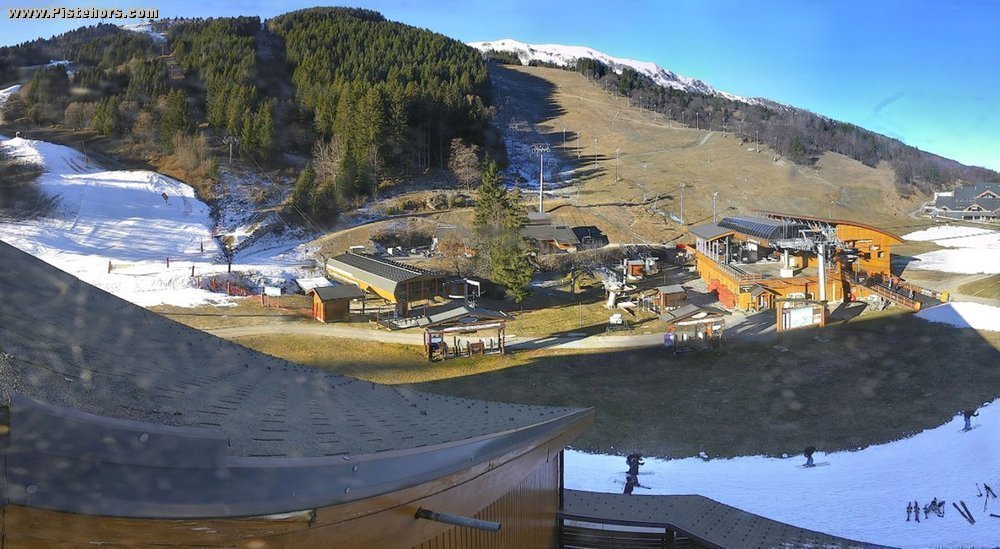 Meribel Dec 2016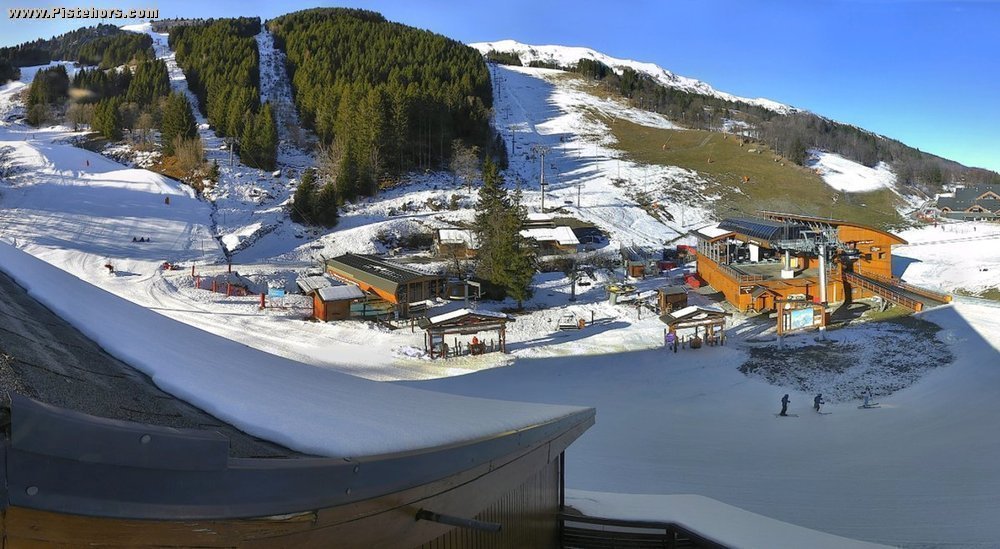 Meribel Dec 2015
However we have another candidate. The terrible 1963/1964 winter. In the three month period from December to February Zermatt recorded just 9cm of fresh snow, Saas Fee 15cm. The situation was similar in France although the winter of 89/90 was worse at 1400 meters as was 92/93. It remains to be seen whether 2016/17 will beat those two seasons in France.
We've certainly experienced an unprecedented series of poor starts to winter, somewhat offset by snowmaking but even that has its limits. Off piste, December 2016 is certainly the worst recent start to winter below 2000m. This all has an effect on the real economy with reservations down 5% - although as Guillaume Roger, of N'Py which federates a number of Pyrenean ski areas point out "Christmas holidays are family breaks, it is not like February, not everyone has come to ski" - just as well.