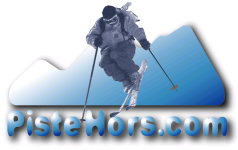 Posted on: 2016-01-26 22:56:42 by davidof
Narrow escape for Swiss snowboarder
Swiss pro snowboarder Kevin Bantli had a narrow escape on the Weisshorn near Arosa on Sunday when he triggered a large avalanche. Kevin and cameraman Martin Schläpfer said they had scoped out the route before and already suspected it might be problematic but they wanted to "have fun".
Schläpfer says that _"I heard a band sounds, all the slope began to go, I started to panic, I didn't know if Kevin had seen the slide so shouted out". Bantli's boarding skills enabled him to race the slide down the slope. Kevin says he's done the route "hundreds of times and was almost waiting for something to happen". What he didn't expect was for the whole slope to go. "On my second turn I notice the slope had gone, it was like snowboarding on water".
Both the young men were shocked by the experience and see it as a lesson and want to share their experience with others. To be aware how quickly things can happen. A spokesman for Arosa said the avalanche risk was 3/5 and they'd put up warning sides but at the end of the day it is a personal decision to ski off piste but the risks should not be underestimated on steeper terrain.
Comments