Every General knows that it is dangerous to fight a battle on more than one front but for the second winter running that is exactly what Swiss ski resorts are faced with. As the director of Verbier, Eric Balet, puts it "it is the winter of danger on all sides". His fear, a lack of snow coupled with a strong Swiss Franc as well as problems with rivals in the 4 Valleys ski area.
Although it is a high altitude ski domain, Verbier forecasts a drop of 5% in turnover and at linked Thyon nearer 7% despite a new run and increased snowmaking. Last season in Verbier turnover was down a massive 20% compared to the season before. The director of Nendaz, another of the 4 valleys areas, say that even before the Swiss central bank abandoned its fix to the Euro they were 30% more expensive than the Austrians. Things look better at Veysonnaz where two thirds of the 3000 beds are booked this Christmas with satisfactory reservations for January and February thanks to package deals of lift pass and hotel aimed at guests from Eastern Europe. In response to calls of unfair competition the director responds that "costs are the same whether a bed is occupied or not".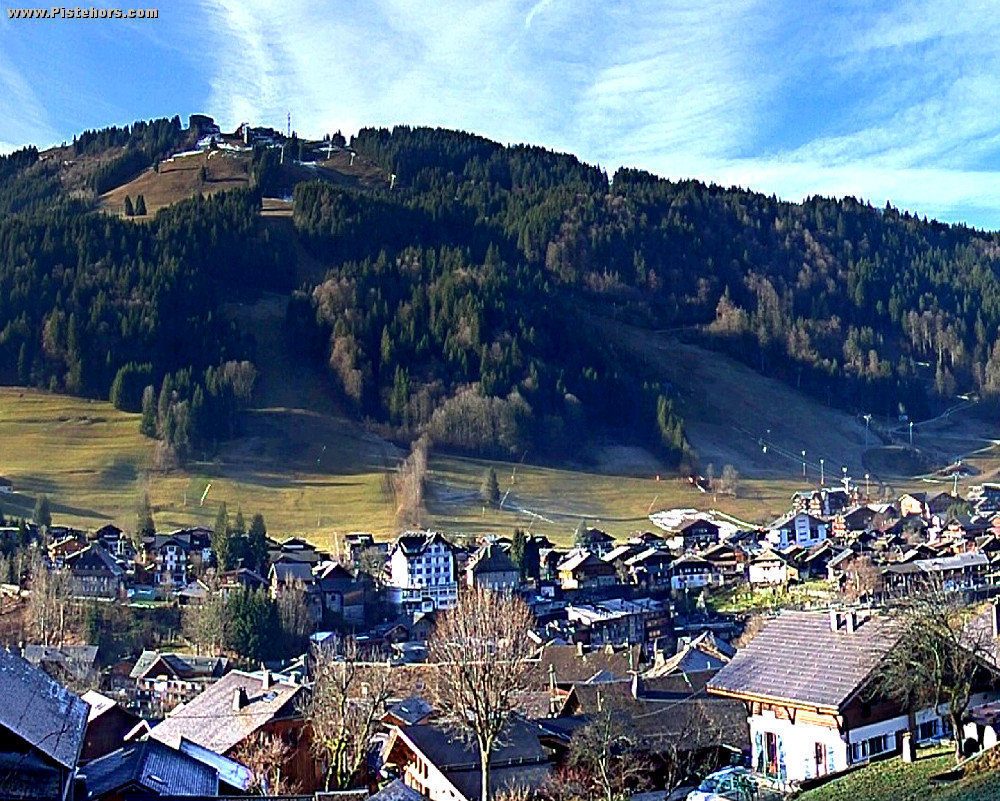 Dreaming of a white Christmas?
In the Valais 130 of the 457 ski lifts need to be renewed in the near term at a cost of more than a billion francs. At the same time lift pass sales were down 3.8% last season. There are talks of state aid in the region of 270 million francs. Tourism represents 20 to 25% of the GDP of the area. There is a worry that if climate trends continue all these investments will be dead capital with warnings that investments in infrastructure in low and mid-altitudes should stop. However ski areas represent a strong lobby. Chamrousse in France wants to equip the Vans and Sorbier valleys to add 200 meters to its altitude and a dozen km to its pistes. It sees this as an important marketing tool with tour operators. The new runs would be in the center of two nature reserves and in an area traditionally used by ski tourers. At Alpe d'Huez and Les Deux Alpes local politicians are still pressing for the "super" project of a cable car link. This would be as much a showcase for local lift company Poma as for any real benefit to the ski area. A recent law (Macron) will enable ski areas to offset 140% of their investment in ski lifts and snow making against tax.
There is also a sense of denial about climate change across the region. At Veysonnaz, the Director Jean-Marie Fournier, "doesn't believe in man made global warming" and slams "the ecologists" and "soft tourism" who are stopping him installing snow making. In Switzerland there are calls to invest in low impact winter tourism rather than ski lifts. The Swiss seem to have fallen out of love with alpine skiing and the picture is similar in France. A mountain disfigured in the summer by ski lifts, artificial lakes, ski runs and snow making is not an attractive proposition for tourists. Jean-Marie Fournier doesn't share this vision stating that "without the ski industry tourism can't add enough value to enable local populations to live". In Chamonix Meteo France weather forecaster Yan Giezendanner is also a global warming sceptic but suggests that there has been a shift in alpine climate over the last couple of seasons similar to that experienced in the early 1990s. His colleague, Daniel Goetz, at Meteo France's snow study center points out that the ski season is 6 weeks shorter at 1500 meters compared to the 1970s. Three weeks less snow at the start of the season and the same in the spring. Can ski areas survive on a 3/4 month season compared to 4/5 months?
Experts also argue that many Swiss lift operators are too small and should link up. Difficult in a canton where there are strong rivalries from one valley to the next. In the 4 Valleys it is like Dallas with Verbier and Thyon, at extremes of the ski area battling Nendaz and Veysonnaz in the center. There is already a lack of balance where skiers enter the domain at Nendaz but ski on the more modern Verbier lifts without a corresponding transfer in ticket sales.
In France Protourisme says reservations are down 8% compared to last season, which was already poor. The images of grassy slopes are bad publicity. Memories of last Christmas' snow drought have not been forgotten. Neither the chaos on the 27th when tens of thousands of tourists were trapped in their cars when snow finally did fall. Reservations are forecast at 44 to 52% for Christmas week and 63 to 81% for New Year according to the the association representing the 250 main ski domains which are hoping to make up with last minute bookings. Given the snow conditions, 50% less in the Northern Alpes, 80% less in the South, this seems unlikely. Autumn and the start of winter have been very dry and warm. Even snow making has been difficult in December with temperatures on the slopes rarely below freezing, even at night. Some resorts have resorted to making snow in the colder valleys and transporting it by truck to the ski runs. Others have looked for snow in the shaded woods and higher up the mountain with pisteurs and even locals taking part in shovelling operations to cover bare patches. Like November, December is forecast to be the warmest ever in France with records being broken on a daily basis. Forecasters see a return to more normal temperatures from January, hopefully saving the key February holiday period, at least at higher ski areas.
Ski resorts don't just blame the poor weather for the lack of reservations. The holiday calendar, with Christmas on a Friday, is seen as unfavourable. International guests are also thinner on the ground. There are economic problems in Russia and Ukraine and the Paris terrorist attacks have put off clients from America and Asia. Fashion for winter holidays has also changed amongst the French who nowadays prefer a week in the sun.
It is not bad news for high altitude areas with the majority of runs above 1800 meters. Some have profited from the lack of snow elsewhere. However even at altitude skiing has only been guaranteed by the use of snow making. Hotels and ski rental have been hardest hit with reservations down 40% compared to clubs and apartments.
Further Reading
http://www.letemps.ch/suisse/2015/12/18/crainte-avenir-stations-ski-reveille-egos-quatre-vallees
http://www.letemps.ch/suisse/2015/12/18/hiver-neige-sonne-glas-ski-industriel
http://www.lefigaro.fr/conjoncture/2015/12/16/20002-20151216ARTFIG00343-la-meteo-clemente-prive-les-stations-de-ski-de-neige-et-de-touristes.php
http://www.francetvinfo.fr/meteo/neige-dans-les-stations-de-ski-la-saison-commence-mal_1229455.html
http://www.ledauphine.com/savoie/2015/12/14/les-stations-pourront-investir-a-meilleur-compte-dans-les-remontees-mecaniques
http://www.ledauphine.com/loisirs/2015/12/17/la-neige-de-culture-au-secours-des-vacances