Once upon a time there was a ski resort in the middle of an island surrounded by an emerald sea. The resort was at the end of a valley surrounded by beautiful 2500 meter peaks. Three lifts enabled local skiers to enjoy the pleasures of winter sports. There was even a national standard competition piste.
Then one day a massive storm washed it all away and the area gradually fell into ruin and was all but forgotten, even by the locals. Sometimes hikers at the northern end of the Corsican Haute Route would pass through the valley, gazing in wonder at the ancient ruins like Burckhardt upon Petra.
Corsica, the self styled île de Beauté, has two remaining ski areas Ghisoni (Haute-Corse) et Val d'Ese (Corse-du-Sud) but local politicians have long dreamt of reopening the ruined Asco under the foot of the 2700 meter Monte Cinto. Ghisoni is located on the slopes of Monte Renoso (2352 m) with ski runs from 1580 to 1870 m d'altitude. Its finances are always difficult. The ski lifts are over 30 years old and required 45,000 euros investments last season. The Val d'Ese, nearer the Mediterranean is bigger. It has 9 runs, a mix of reds, blues and greens. A mix of open slopes and woods and 5 ski lifts. According to the mayor between 15 to 20,000 locals use the lifts each season keeping the local economy running.
Talks of reopening Asco seemed like a mirage. The dream of a few passionate locals and politicians looking for ways to boost tourism. However a planning application from December 2014 revealed plans by the mayor to install a drag lift with a capacity of 1500 skiers per hour and a visit to the site in May shows the brand spanking new lift being built. It seems this phoenix has risen from the flames.
Further Information
http://pistehors.com/backcountry/wiki/Corsica/Haut-Asco
http://www.corse.developpement-durable.gouv.fr/IMG/pdf/formulaire_F09414P024_complet.pdf
http://conditions.montagnesdecorse.com/ASCO_a912.html?com#comments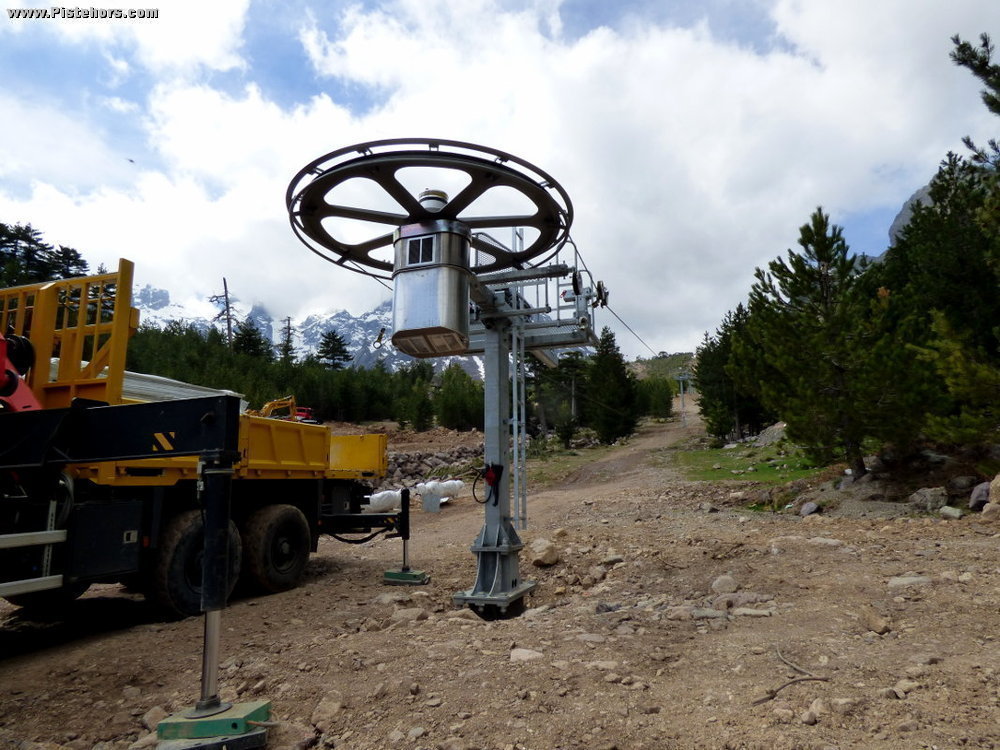 Haut Asco (photo: montagnesdecorse.com)