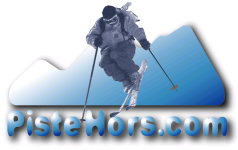 Posted on: 2014-10-06 11:01:56 by davidof
The Russians arent coming
The Russians aren't coming. Well that's the message from France Montagnes following a promotional tour in Russia and Ukraine this September. The group which represents leading French ski resorts reckons there will be 10% fewer visitors this winter.
Apart from the souring of relations at a top level between Russia and Europe an economic crisis in Russia and the bankruptcy of a number of tour operators will restrict visitor numbers. Former Finance Minister Alexei Kudrin says sanctions and a drop in oil prices could cost Russia 4% of GDP. Threats to block the SWIFT payment system could create turmoil for Tour Operators. Bankruptcies amongst travel companies have worried Russian guests who are now waiting to closer to the season start before making plans. Bookings via Russian Tour Operators are down 20%; it was the same situation for the Côte d'Azur over the summer.
The exchange rate isn't helping. It is 50% more expensive for Ukrainians and 20% more expensive for Russians to visit Eurozone countries. However keen skiers won't be put off, they'll just look for better value ski resorts. Less Courchevelski and more Les Menuireski next winter.
Comments