If the race winner seemed almost certain in 2014 edition of the Grande Odyssée there was still a battle for the other two podium places. On Tuesday's stage from Termignon to the Polar Base Bivouak on the Col du Mont Cenis Rémy Coste objective was to gain a few minutes on his rivals Radek Havrda and Daniel Juillaguet.
In an exciting first leg Jean-Philippe Pontier once again arrived in the lead at the Col but there was little to separate the front runners. Juillaguet's team seemed to have recovered the form that had deserted them over the last few days and came in two minutes down on the race leader with Coste, fighting for every second, right on his heels. Czech musher Havrda was a further two minutes behind. All in all less than 4 minutes seperated the lead mushers.
The tables were turned by Coste on the second leg, and finale, the return to Val Cenis from the Polar Base. Again Pontier was in the lead but Coste keep the gap to under 2 minutes with Havrda a further 4 minutes down with Juillaguet just behind.
It was a much deserved overall win the Jean-Philippe Pontier who, after wrestling the lead from the Czech strongman Havdra at Sixt-Fer-à-Cheval, has dominated the 10th edition of the Grande Odyssée. 620km of snow covered trails at an average of 15.3km/h but it is the climbing that makes this the "Tour de France" of dog sledding with 30,000 meters of ascent. Pontier completed the route in 40 hours 32 minutes, 51 minutes ahead of Coste. It is Pontier's 9th participation in the event and the first victory for the musher and his team of Alaskan imperial huskies.
The Haute-Maurienne trophy was won by Frenchman Jason Fournier followed by Julie Travadon who was training her dog team for her mother's forthcoming race in Finland.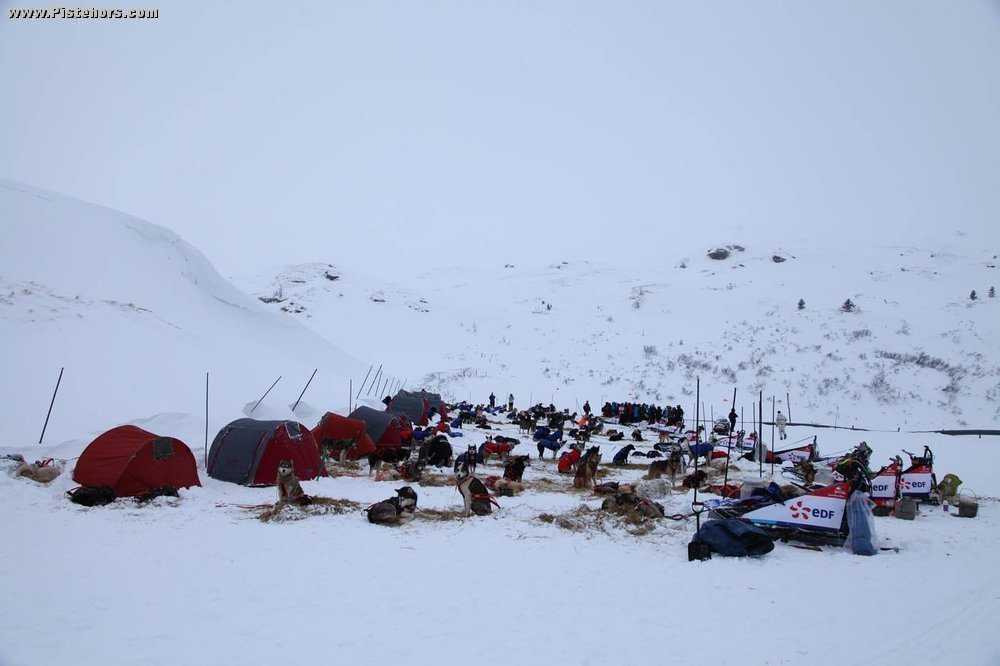 © LGO Polar Base