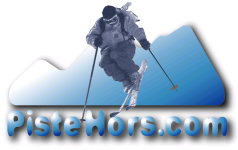 Posted on: 2013-10-27 09:53:43 by davidof
Climbers caught by Vanoise avalanche
Second avalanche of the season in the Savoie and it is not even November. Two climbers were ascending above the glacier du Génépy in the commune of Pralognan-la-Vanoise yesterday (26th October). They were just below the summit ridge at 3500 meters when they triggered a slab.
Glacier du Génépy
Caught in the middle of the slide they were carried down slope but not buried and suffered only mild injuries. Facial cuts for one and a sprained knee for the other. The rescue services, in the form of the CRS based in Modane, came to the scene by helicopter and transported the climber with a knee injury to hospital in Moutiers.
The incident occurred around 14h00. The avalanche was 100 meters wide and ran for 250 meters. The police estimated the slope at around 45°. The climbers were local to Bozel and Saint-Martin-de-Belleville. The debris was two meters deep in places and the rescue services say the climbers were lucky not to have been buried.
Location
Comments