In a long interview given to Antoine Chandellier the father of Courchevel ski instructor and trainee guide Grégory Costa, killed a year ago today in an avalanche in Nepal, criticises the state of commercial operations in the Himalayas.
Gérard Costa, who runs a business in the Haute-Savoie, has been to Manaslu three times to search for the body of his son who was climbing with Glen Plake and Remy Lecluse. Each time he has had to pay a 5000 € summit fee for the privilege. "The embassy told me they can do nothing about it, we are guests here". The kingdom lives off the fees paid by rich westerners to reach one of the country's 8000 meter summits.
Gérard is trying to build a picture of the rescue operation. Four days after the slide the Bolivian Aldo Rivero found Rémy Lécluse's body using his avalanche transceiver. Rémy's beacon was still transmitting, he was in a crevasse covered by a layer of power snow. "If they'd searched effectively after the accident maybe they could have found them alive?". Nepal has no public rescue services. One rescue worker told Gérard he had to wait for two helicopter rotations, to let journalists travel to the site of the accident. Glen Plake, who was sharing a tent with Grégory said the aftermath of the avalanche was a war-zone, people were trying to save others with limited means. Porters, with no formal training, were probing with bamboo sticks, those that had avalanche transceivers couldn't use them effectively.
Anselme Baud, who lost his son Edouard in 2004, accompanied Gérard Costa to camp 3 at 6800 meters in May. "Maybe we couldn't have saved anyone else but still". Baud has collected probes from the Chamonix rescue services and a donation of avalanche transceivers from Nic-Impex and sent them to Nepal where people are being trained in their use. For Baud, who is outspoken about such accidents making camp in the middle of a bowl presents the same dangers as camping under Mont Blanc du Tacul which is regularly swept by serac fall. "If Rémy was wearing his beacon it wasn't for nothing". He'd made camp in the shelter of a rimaye, it was the blast that took the group.
Life goes on, just after the tragedy climbing parties were again active on the mountain. The Dynafit expedition helped in the rescue. A week later one of the group, Benedikt Bohm, skied from the summit, a first. "The reward for 10 year's hard work". The agency Expés.com, who lost 4 guides and clients in the accident, has stopped expeditions to 8000 meters. "We spend too much time on 8000ers where, sooner or later, there will be an incident".
Gérard Costa is not bitter. "My son was a pure mountaineer, he had skied Daulaghiri an 8000 meter summit, I've done my grieving, he is at peace in the most beautiful cemetery in the world." He's going back to Manaslu in 2014, this time with his wife, she's still devastated by the accident.
http://pistehors.com/news/ski/comments/after-manaslu-the-enemy-is-us/
http://pistehors.com/news/forums/viewreply/4244/
http://pistehors.com/news/forums/viewreply/4223/
http://pistehors.com/news/forums/viewthread/584/
http://www.ledauphine.com/faits-divers/2013/09/22/mon-fils-est-dans-le-plus-beau-cimetiere-du-monde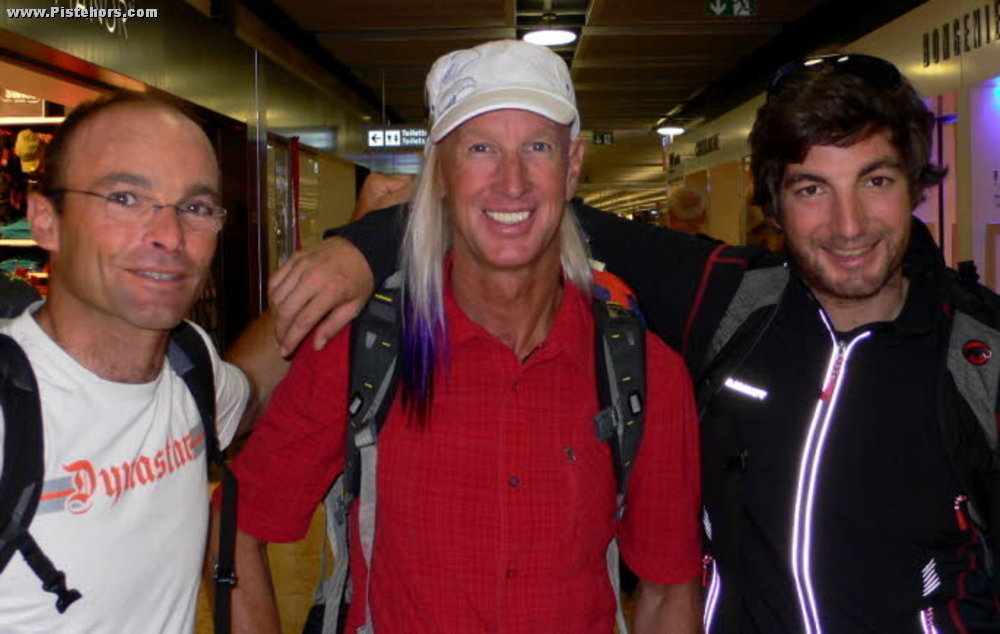 Remy Lecluse, Glen Plake and Grégory Costa on their way to Manaslu