Avalanche
News relating to avalanches. Check the Avalanche Bulletins when planning a trip outside of open ski slopes.
Friday, 03 February, 2012
A videographer at an unsanctioned snowboard freeride event captured some provocative footage last weekend of an avalanche airbag in action:
Saturday, 24 December, 2011
A 54 year old piste patroller has been killed in Klosters during avalanche control work. The patroller and his colleague had loaded a launch pipe with an 8.3cm rocket. The patroller was in the process of removing 2 safety devices when the charge exploded without warning. Standing behind the device the patroller was killed by the recoil and by shrapnel from the charge. The accident follows a another incident on the 18th December at Flégère in the Haute-Savoie. In this case the charge exploded inside an avalancheur system injuring two piste patrollers. Note: See comment from Philippe Laborde from LaCroix below
Friday, 25 November, 2011
During the 2010-2011 season in France there were 29 avalanche fatalities in 19 incidents. On the face of it a fairly typical year. However the overall figures hide a concentration of fatal avalanches in the border region with Italy and in the months of December and March which saw 58% of fatal incidents. Ski touring incidents as well as the seriousness of incidents both continued the recent upward trend.
Wednesday, 20 April, 2011
In a press release issued on the 19th April 2011 the Swiss Snow and Avalanche Research Institute (SLF) highlighted how a winter marked by above average temperatures and a thin snow pack led to an explosive situation by early March where the majority of fatal avalanches were recorded. It is a message we at PisteHors.com repeated throughout the season in our snow report threads. The number of deaths in Switzerland is already equivalent to the long term annual average despite fewer risk 3 and 4 avalanche days.

Avalanches, such as this on in the Simplon on a north slope above 2500m, were easy to trigger by one or more backcountry travellers at the end of winter 2011. (Photo: C.Höhener, 06.03.2011)
Saturday, 19 March, 2011
The rescue services were stretched to the limit this weekend as a series of avalanches with their epicenter close to the Italian border left six skiers dead and one missing. On Friday avalanches in Val d'Isere and Queyras killed two skiers with a Russian missing in the Mont du Vallon sectors sector of Meribel. He is believed to be buried under 5 meters of snow in a sector dangerous for rescuers. There was also a large slide under the Funitel at Val Thorens on an already heavily tracked slope.

Avalanche on the Mont Vallon - Niall Mckelvie
Monday, 08 November, 2010
On the 27th December 2009 an avalanche in the Swiss Valais resort of Anzère which hit an open ski run triggered a major rescue operation involving 130 people, 8 avalanche dogs and 3 helicopters. The slide was probably caused by 3 off piste skiers. Experts believe that the legal process could lead to restrictions on off-piste skiing near to open ski runs.
Monday, 05 April, 2010
The Rescue Services in the Isère department have flown seven rescue missions in the space of a couple of hours today. Conditions were difficult for pilots with high winds and drifting snow. A series of avalanches in the Isere and Haute-Savoie have left five people dead and others injured. Sebastian Rigaud, a spokesman for the mountain police in Grenoble has advised skiers to keep off the mountains for the next few days. If skiers do go out the greatest care is needed in route choice.
Sunday, 07 February, 2010
A 21 years old has been found alive under an avalanche after 17 hours. He was found conscious and with just mild hypothermia according to the rescue services.
Tuesday, 02 February, 2010
Last Saturday Gilles Durand, a 53 year old college professor and director of sports at the University of Grenoble was climbing the steep couloir des Sultanes with a friend when they triggered a slab avalanche. The couloir takes it name from the large sentinel rocks that guard the entrance.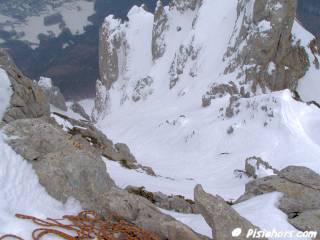 Couloir des Sultanes
Monday, 18 January, 2010
A Danish skier in his thirties has been killed by an avalanche this afternoon at Val d'Isère. The avalanche occurred on the West facing Grand Vallon at 2700 meters altitude. The skier was part of a group of eight from the UCPA and accompanied by an instructor.