Black day for the white forest
Risoul and Vars have been linked since the 1990s as part of the Forêt Blanche ski domain (white forest). The single lift pass is an important marketing tool for both resorts. However the two ski areas are run by separate lift companies, the private / public partnership SEDEV at Vars and the private company Sermont at Risoul and this is proving to be a bone of contention with SEDEV claiming that Sermont owes them the sum of 262,264 €.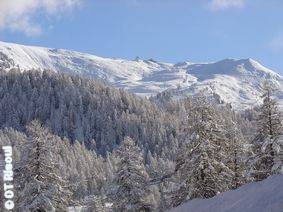 The argument has come to court, the tribunal de commerce in Paris no less. A development that worries many locally who recall that the first lift company at Risoul (SAPAR) went bust in 1974. There is also the precedent of 50 court actions between the warring villages of Serre-Chevalier during the 1990s which brought that ski area to its knees until a virtual take over by the Compagnie des Alpes. The CdA was more vulture than white knight but with a lack of investment and parlous finances Serre-Chevalier had little choice.
Since the 10 year agreement between Risoul and Vars expired in 2003 there have been a number of short term deals to keep the joint lift pass and links running. The law suit has more to it than money. Vars is concerned that Sermont want to quit Risoul and wants a long term agreement in place before this happens. The mayor of Risoul for the last seven years and a former piste patroller, Aristide Bonnaffoux, says that Risoul has been excluded from talks between Vars, SEDEV and Sermont. He thinks the dispute could being economic disaster to the area if allowed to escalate. The director of Sermont, Jean-Pierre Dubosq, sees the problem as local political rivalries.
Sermont is a part of the Société Foncière de la Vallée des Allues (SFVA) group which rescued Risoul following the bankrupcy of the first operator. Its hotel offshoot SARA is continuing to develop the resort with new and refurbished apartments and launched a "low-cost" package last season with a direct coach service from Paris International Train Station (Gare du Nord).
Posted by
davidof
on Tuesday, 29 August, 2006 at 04:37 PM
Comments are now closed