The Riots that Ruined a Ski Resort
As France sweeps up after the worst night of rioting in the country since May1968 we take a look back at the Soixante-Huitards and the effect they had on one resort, Le Corbier, affectionately dubbed St Germain des Neiges.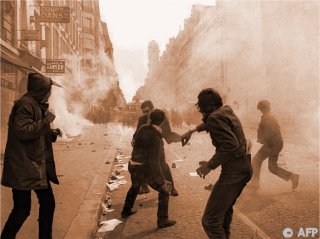 Rue Picpus, St Germain Quarter, May 1968
Le Corbier was developed in the 1960s by Jazz Musician Christian Guerin as part of the Plan Neige. A massive state sponsored construction programme to expand France's winter sports industry and make it a world leader. Guerin was not a wealthy banker with unlimited resources like the Boissonnas in Flaine. Instead he raised money where he could, friends, family and got le Corbier off the ground by strength of character.
Guerin reckoned without public disorder and a general strike in May 1968. The '68 disturbances had their roots in student unrest, the university system was rigid and elitist, but the troubles soon spread from the intellos to the workers. Like today's government de Gaulle was caught on the hop, responding first with a crackdown then concessions. It was too late to save Guerin, the long delays in construction were fatal to the finances of St Germain des Neiges.
Le Corbier: St Germain des Neiges

Posted by
davidof
on Monday, 07 November, 2005 at 05:50 PM
Comments are now closed