Snow and Avalanche Report: Week 3-2005
After exactly three weeks cold, clear conditions the weather finally broke on Tuesday with 20 to 40cm of snow in the Northern Alps over the course of 24 hours. The snow levels briefly descended to 400 meters but in what seems to be a normal yoyo pattern France had one of its hottest January days on record yesterday with temperatures pushing 20C in some locations.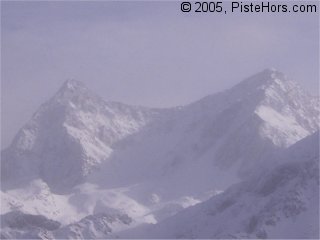 Mountains in the mist
At 1400 meters in the Belledonne mountains we recorded 9C, this dropped to 3C at 1000 meters before picking up towards the valley. A typical winter temperature inversion. Still there was some clear weather around midday as this misty shot of the northern Belledonne peaks shows. The warm weather and rain purged some slopes below 2000 meters.
Off-piste there was a good 10cm of powder snow on sheltered aspects with hard snow and bare rocks on windward slopes. It was possible to ski down to around 1000 meters although the snow was very wet at these levels. Further up the pow. was humid and had a very light crust in places. With the hard and uneven base it was pleasant but sometimes challenging skiing. Bad weather has set in today (Friday) with snow above about 1500 meters, sustained rainfall lower down. This level should drop to around 1000 meters this evening.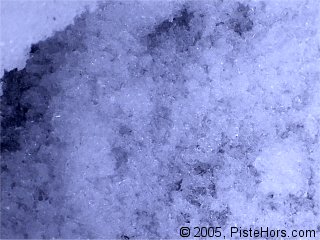 Unstable snow layer close to the ground
Earlier in the week the winds were from the south-west, after some calm conditions these have swung around to the north-west with moderate winds at 1500 meters but much stronger, around 80km/h, higher up. The wind has formed some large accumulations of snow. Southern aspects are fairly stable after a prolonged freeze-thaw cycle. On Sunday we skied the south-east facing Jas des Lièvres in spring like conditions. However on colder slopes (essentially north, west and east) there extra loading of the fresh snow on some weak layers could lead to slab avalanches triggered by the passage of a single backcountry traveller.
The unstable weather conditions will continue over the weekend with snow to around 1300 meters accompanied by a slight increase in avalanche activity as the load increases on the snow pack.
Update Monday 24th January
As forecast there was a lot of new snow over the weekend. Over a meter in the resorts of Chamonix and Val d'Isère. In the Isère it snowed to around 800 meters over the weekend, dropping to 400 meters on Monday. This has been accompanied by strong winds from the North to North-West with the cloud base at around 2000 meters altitude. The Pyrénées has also had some fresh snow, between 50-70cm in central areas last week and 20cm over the last 24 hours. Great care should be taken when travelling off-piste at present. The fresh snow had formed numerous slabs and these are frequently sitting on old, hard snow or fragile layers (depth and surface facets) on colder aspects.
Southern Alps
The snow cover is still poor despite fresh snow that reached as far as the coast. Strong winds have moved a lot of snow around and some large accumulations and slabs are present even at distance from ridges and summit. The wind is currently from the north-east and may reach speeds of up to 60-80km/h at altitude.
Corsica
The snow cover in Corsica is good for the season with 40 to 60cm at 1500 meters altitude. It is possible to ski to around 1200 meters and some more snow is expected on Tuesday. The recent fresh snow has been accompanied by strong winds which will form some new hard and soft slabs. Where these are covered by fresh snow they may be difficult to detect.

Pyrénées
There has been over half a meter of recent snow in the middle of last week in the central Pyrénées and further fresh snow is expected this week down to the valley floors. A moderate to increasingly strong North-West wind will transport this fresh snow and largel accumulations, including wind slabs are to be expected, particularly on south and east aspects even at mid-altitudes. Currently below 2100-2400 meters the snowpack has been stabilized by a thick crust. Higher up there are some slabs and an unstable snowpack on all aspects apart from directly south facing which have been stabilized by a freeze-thaw cycle. The fresh snow will bury these slabs and add a further load to the snowpack.
References
This information is a summary of current conditions and is provided for information only. Météo France issues daily avalanche bulletins for the French Alps, Corsica and Andorra. You should ideally consult at least the previous 5 days bulletins prior to your trip in order to have an idea of recent conditions.
Camp2Camp.com has details of recent backcountry trips in the European mountains including comments on the snow and avalanche conditions.
Henry's Avalanche Talk publishes a daily translation of the Météo France bulletin for the Savoie area.
Posted by
davidof
on Friday, 21 January, 2005 at 04:46 PM
Comments are now closed