Snow and Avalanche Report: Week 2-2005
Apart from on Thursday morning in Northern Alps there has been no fresh snow since late December. The warm sunny conditions with clear, cold nights have stabilized the snowpack over all the French mountains. Large temperature gradients are creating facetted snow on some shaded slopes which could be a instability if covered by fresh snow. Strong winds have removed snow from areas close to ridgelines and there is an increased risk from falls, particularly on exposed routes on shaded slopes.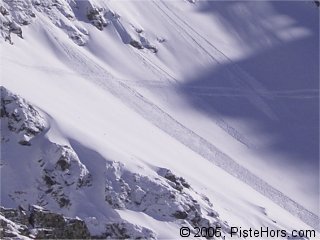 Snow sluffs in the Northern Alps
Between 5 to 10cm of fresh snow fell on Thursday morning. A temperature inversion meant that cloud cover persisted in the valleys with warm, sunny weather in the afternoon above around 1800 meters. The previous significant snowfall dates from the 28th of December. The fresh enabled us to ski some pleasant shallow powder in the Belledonne today, even if the base was frozen and irregular on sunny aspects. There were a number of snow sluffs off on steeper slopes (35 degrees +) and some of these caused larger slides of the surface snow. Despite this the snowpack remains relatively stable with just a few slabs present on shaded slopes close to ridgelines. There is also the possibility of soft-slabs in shaded slopes well away from ridges due to the structure of the snowpack. The snow cover is quite thin at altitude where strong winds have had an effect although it is good at mid-mountain levels. Conditions in low lying resorts are currently good. Wet snow avalanches are also a risk on south facing slopes in the afternoon especially with the milder weather on Friday.
A snow profile on a north-east facing slope at 2200 meters revealed 95cm of snow depth with crusts at 15cm and 63cm. Shear tests indicated that the snow was well bonded but there did seem to be a weakness at 30cm depth. There was a change in hardness of the snow at this point and this is possibly the interface between the snow from the 28/12 and the older snow. A layer of depth hoar was present at ground level. It is possible that a large surcharge could cause an avalanche of the recent snow or even a full depth slide in certain zones. The wind was light except at ridgelines where there was a moderate wind from the north-east.
The previous week has seen a number of warm episodes with the dominance of sunny weather associated with an anticyclone. Earlier in the week we climbed to the Dent de Crolles (2062m), a large south-east facing slope. It was possible to ski from around 1300 meters on south facing slopes, slightly lower on shaded aspects. There were spring snow conditions at midday on sunny slopes which gave good skiing. On the ridge line the wind had removed much of the snow with frozen and hard snow conditions on shaded aspects.
Southern]http://pistehors.com/backcountry/wiki/Ski-Areas/Southern-Alps]Southern Alps[/url]
Snow cover is poor in the Southern Alps and Grand Rousses sector of the Isere below 2000 meters and also at altitude where strong winds have removed snow from ridges and summits. The snow cover is generally good with the persistence of some slabs formed under the action of wind at the end of the December, particuarly in at altitud in bowls and couloirs. Given the shallow depth the snowpack is tranforming into angular grains (loud powder) on sheltered slopes under the action of a strong temperature gradient. This could present a future instability when it is buried by the next snowfall.
There was a small amount of snow on Thursday morning however snow cover below 1800 meters remains poor after recent rainfall and warm weather. Conditions improve above 2000 meters. The snowpack and cover is very irregular with some light snow still present on shaded slopes. There is a danger of some persistent slabs on a fragile base of facetted snow. On northern aspects the snow has not stabilised.
The Pyrenees are currently dominated by an anti-cyclone which has brought warm, sunny weather during the day and clear, cold nights. This has largely stabilised the snowpack. Spring conditions can be found on south facing slopes as they are warmed by the sun. The snow remains hard on other aspects with ice on cols, summits and certain North faces where snow has been removed by strong winds. Backcountry travellers should remember that the consequences of a fall can be extremely serious, particularly on exposed routes. It is possible to ski from 1800 meters on south facing slopes, 1400 meters on northern aspects. Snow cover is best in central and western areas. Above 2400 meters a strong temperature gradient is transforming the snow into facetted crystals similar to powder snow.
References
This information is a summary of current conditions. Météo France issues daily avalanche bulletins for the French Alps, Corsica and Andorra. You should consult at least the previous 5 days bulletins prior to your trip.
Henry's Avalanche Talk publishes a daily translation of the Météo France bulletin for the Savoie area.
Posted by
davidof
on Friday, 14 January, 2005 at 01:19 AM
Comments are now closed