Roaming Charges
George Harrison once wrote "if you walk too fast they'll tax your feet". Pretty far fetched, except in France where a law has just been approved by both Houses of Parliament which enables city councils to charge walkers for using marked trails. The intention is to cover budget deficits by charging snowshoers for using certain paths, however the law is very loose and could, potentially hit other sports including walking and ski touring.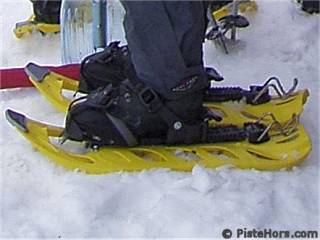 The new legislation has to return to the Senate for final approval but this is now just a formality. The advocates of the new law claim it will regularize current practise in 20 communities in the Massif-Central and Pyrenees. The key passage is to allow "a payment to access a winter sports area dedicated to cross country skiing and other non-motorized sports apart from downhill skiing." The tracks must be marked, secured and maintained. The new law has caused consternation amongst snowshoers in particular. They argue that they don't require any infrastructure to practise their sport. Cross country ski areas have replied that they need to cater for the growing numbers of snow shoers who are using tracks set aside for cross-country skiers and who are disturbing hibernating animals and damaging saplings.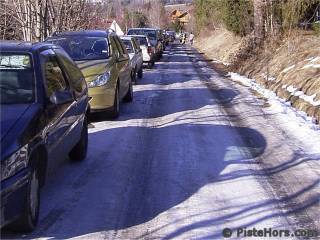 Popular routes can be choked with parked cars
It is twenty years since cross-country skiers have been charged. However unlike snow shoeing the sport benefits from prepared tracks. Since the introduction of payments cross-country skiing has been in decline in stark contrast to snow shoeing which sold 100,000 pairs last year and accounts for 10 to 15% of visitors to ski resorts in France. Ski resorts argue that the charges will only be applied in very limited areas and then only to snowshoers but many fear it will temp communities to extend the area that is exploited and controlled. The president of the French Alpine Club sees tollbooths springing up all over the mountains if backcountry enthusiasts are not vigilant. Disputes between an alliance of ecologists and backcountry sports enthusiast against ski areas keen to extend and link domains are already increasingly common.
Backcountry enthusiasts might be more sanguine but local communities already have form for devising new ways of raising funds. In 2002 a piece of legislation to decentralize power was seized on by 50 communities in the Savoie to charge people for mountain rescue services, something that had been free outside of ski domains. Despite government advice issued last spring some communities retain these charges. The worry amongst ski tourers is that popular routes that cross ski areas will be subject to a charge, these include the Chamchaude and Scia mountains in the Chartreuse. Traditional routes that can only be accessed through the ski domains of the Col du Porte and St Pierre. In additional small villages that see a huge influx of cars with no economic benefit may be tempted to establish new winter sports areas and impose charges. For example the community of Prabert in Belledonne can see up to 300 cars parked on its narrow roads.
We contacted legal experts specialising in public law, they commented that although communities could establish tolls the courts would be likely to take a narrow interpretation of the law in any disputes and would not be happy to see a generalized system of charges for mountain access. However they pointed out that no advice has been given as to the scale of charges, this will left up to the authorities, no doubt market forces will apply.
Posted by on Wednesday, 07 December, 2005 at 09:53 PM
Comments are now closed