Picnic on the Grand Colon
Grand Colon, Cul de Pet, Col de Merderet, le Cul de la Vielle, Coulée de Bronze (okay I made that one up). The names in the Belledonne Mountains seemed a bit scato I observed as we climbed under the west face of the Colon. Luc, webmaster at Bivouak.net, smiled "welcome to France!"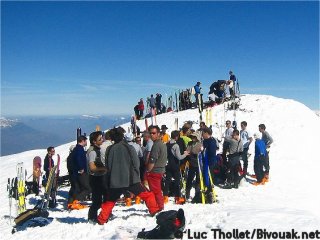 Picnic on the Grand Colon
© Luc Thollet/Bivouak.net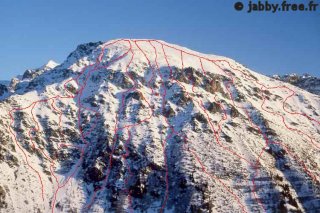 75 Best Routes of the Grand Colon!!!
© Team Jabby
The idea for a big picnic on top of the Grand Colon had grown out of a drinking session at the Shannon, an Irish pub in nearby Grenoble, between teams from Volopress and SkiTour. At nearly 2,400 meters the Colon is one of the summits that dominates Grenoble. It also offers a range of routes to suit nearly all tastes, from the 2.1 south-west ridge to the extreme 4.3 west couloir although maybe not the 75 runs alluded to by Team Jabby in Mr Ch. Ubaka's mythical guidebook « Les 75 plus belles courses au Grand Colon ». This meant that we shouldn't be tripping each other up on the way down.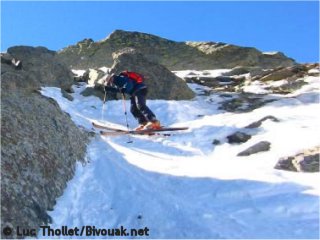 David taking it easy
© Luc Thollet/Bivouak.net
We arrived at the summit around 11h00. Below Grenoble simmered in heat haze and air pollution. Around 75 skiers and snowboarders had brought a variety of produce from home made cakes, quiches and alcoholic beverages of different strengths: red wine, sweet moelleux wine for deserts, champagne and Genepi. I perhaps overdid it a bit on the Genepi, thinking about the forty degree North-West couloir we had selected for out descent. The entrance was a mixture of rock and ice with hardly any space for skis… it would be easier for a rich man to enter the kingdom of heaven – although if he was Bill Gates he could probably buy heaven. The day before I'd done 1400 meters in the Rallye des Crêtes so maybe could be forgiven for imbibing a little.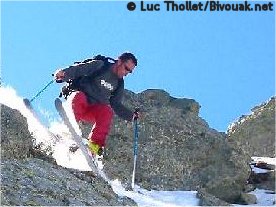 Thomas Rock Hopping
© Luc Thollet/Bivouak.net
The picnic was a chance to encounter some of the personalities of Grenoble ski touring, representatives of various groups including Jeroen from SkiTour.fr, Lionel Tassan (aka LTA) from Volopress as well as the Jabby team and SkiRando.ch. Before 1pm we broke camp, before the sun softened the snow to the point of being dangerous. The Bivouak/PisteHors team of myself, Luc and Thomas joined the snowboarders of Jabby for the North-West couloir. Apart from the tricky entrance there as soft, even powder snow until we reached the forest. Here the track had turned into a wild border cross with switchbacks, log jumps and slaloms between the trees. Only on your average boarder cross you don't have snowshoers coming up the path in the opposite direction. A varied end to a great day out.
Posted by
davidof
on Tuesday, 22 March, 2005 at 05:07 PM
Comments are now closed