Les Arcs doubles snow making
York Neige is completing a project that will double the snow making capacity at les Arcs for the start of the 2006/7 season. The aim is to be ready for the cold weather in November to enable the resort to build a good artificial base for the winter. York is currently installing 4500 meters of snowmaking on runs in Arc 1600 and 1800 and a further 4800 meters at Arc 2000.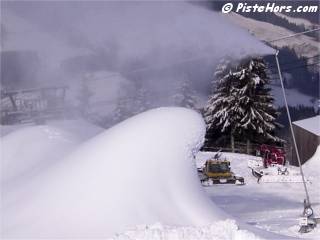 The snowmaking will improve coverage on the inter-resort links, heavily used runs, the snowpark and the kids area at Arc 2000. The resort will also upgrade the existing 9 km of snowmaking including 65 AMTE/Lenko lances bringing the total number of canons to 182 for next season. York will install a mix of Rubis 71, Borax 3 and Safyr 8 snow canons. The project will also reuse the old Lenko snow making plant at Arc 1800.
The upgraded and new snow canons, reservoirs and plant will be connected by a SNOCOM high speed network and controlled using York Liberty Software. This enables the remote control of valves, compressors and canons as well as monitoring the air / water mix. The means that the optimum amount of snow can be produced for the given conditions while conserving water and energy resources. The software also supports remote diagnosis with SMS alerts.
The upper Tarentaise ski areas have recently suffered from some cold and dry starts to winter and this project will ensure that the resort can function normally for the December pre-season and Christmas / New Year periods. Snow making is an important marketing tool and essential to attract Tour Operator business. Although the first snow making was installed in France at Flaine in the mid-70s the country's ski resorts have lagged behind North America, Austria and Italy in its use.
Artifical snow is very resistant to erosion as it is twice as dense as natural snow. It provides a good base and snow canons are usually employed at points where there is most wear on slopes. Snow making requires cold weather. Except specialized plants with pre-feezing units it can only operate at temperatures below -2°C to -4°C. It is also a greedy consumer of energy and water resources and artificial snow melts later in spring which can have an affect on plant life and the water table. The les Arcs project will consume 1200 kw of energy and 800 m3 of water per hour when running at full capacity.

Posted by
davidof
on Tuesday, 05 September, 2006 at 12:20 PM
Comments are now closed