I want to drive a Piste Basher
It used to be that every boy's dream was to be a train driver. In the days of steam there was a certain nobility to piloting a Pacific class locomotive, eating a full English breakfast cooked on the footplate while the fireman shovelled coal. Judging by the number of kids at the World Mountain Equipment expo held in Grenoble this week every boy and girl's dream is now to be a piste basher pilot.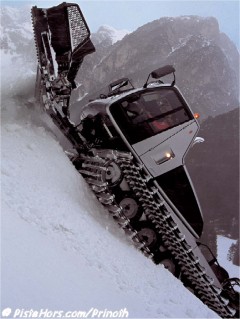 Yikes!
There was enough horsepower at the event to keep even a testosterone charged British motoring journalist happy (the image of permed hair and overly tight Levis springs to mind). We spoke to Hugues Reffet of Prinoth, part of the Leitner group, about the mighty Everest Power and Leitwolf groomers.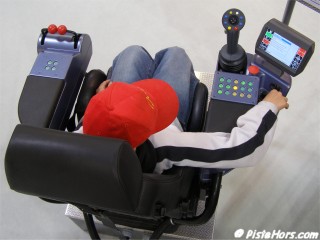 Captains Log: supplemental
First, to put these beasts into terms that the man, or boy, in the street can understand, you can really compare them to a luxury sports car. Think Maserati rather than Mondeo. Groomers are not as powerful as one might think. The Leitwolf has a 435 hp, 12.8 liter MAN truck engine developing 2100 Nm of torque between 800 and 1400 RPM. The motor conforms with Euro norm 3 for emissions, introduced on the 1st of January this year. Something that resorts wishing to gain their ISO 14001 environmental management certification will be pleased about. With Oil hovering around $80 / barrel consumption is important. The Leitwolf drinks 20 liters of diesel in an hour and can operate all night on a single tank.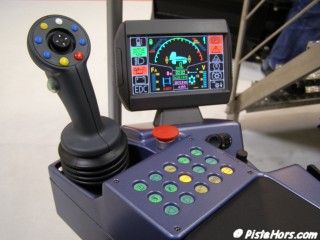 PlayStation
Groomers have to be light and manoeuvrable. Both machines use composite materials and alloys. The Everest Power can tackle a 120% gradient. There is a winch with 1200 meters of cable if you need to groom the north face of the Bellecôte. The top speed is around 20 km/h. Using counter-rotation of the tracks it can naturally turn on a sixpence (if you can find one).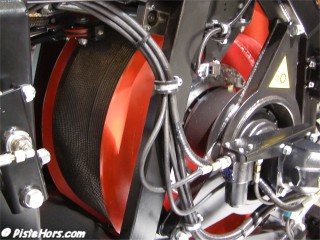 1200 meters of steel
We wondered how difficult it was to drive a groomer? Hughes told us that a surprising amount of technology is used to assist drivers. You learn to manoeuvre a groomer in a couple of hours and be bashing corduroy to the standards required by ski resorts with a week of practise. We were amazed at how sparse the controls were just a steering wheel, computer screen and joystick.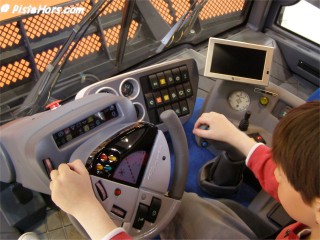 Child's Play
When you are spending all night on the slopes, often in the artic conditions of the dead of winter, driver comfort is important. Powerful 24 volt electrics and Xenon headlamps let you see where you are going. Cabs are fully suspended and built with a safety cage in case of accidents. Front and side windows are kept free of mist by electric heating. Oh and the seats are comfy and there is a radio cassette, mobile phone socket and the obligatory cup holder in case you decide to take a tour by McDrive in Megeve. The styling has a luxury car heritage, the Leitwolf was designed by non other than url=http://www.pininfarina.it/]Pininfarina[/url]who have also worked on Maserati and Ferraris.

Nice bit of corduroy
So if you fancy one of these toys the Everest Power costs 360,000 € although Hughes said he could do a deal if you bought more than one. Maybe he would throw in the winch? One of the selling points of Prinoth groomers are long service intervals and good resale values. Their machines are in use in North America, Europe and in the growing Asian market. Even some quite small resorts including Lelex in the Jura, Pralognan in the Vanoise and Termignon in the Maurienne have recognised the good value these groomers offer.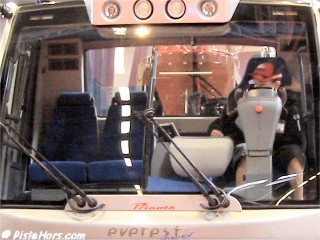 Fit the best, Everest
Website: http://www.prinoth.com/
Posted by
davidof
on Wednesday, 26 April, 2006 at 06:16 PM
Comments are now closed