I Lurve You Mondial du Ski
While the rest of the team were off testing skis or whatever boys get up to with their toys your PisteHors fashion correspondent was checking out what the bold and the beautiful will be wearing for the forthcoming season. Well in between numerous vin chauds taken in the press tent. We spotted Fashion TV on the slopes; this is the satellite pay-pero-view channel and required viewing for fashionistas world-wide. If you don't know FTV their trademark is scantily clad size 8 Eastern European girls who just "lurve" the channel. Your hard working writer managed to bag a few T-shirts which just about fitted her baby son so if you see a shade wearing 14 month year old boy clad in FTV gear in Courchevel this winter you will know why.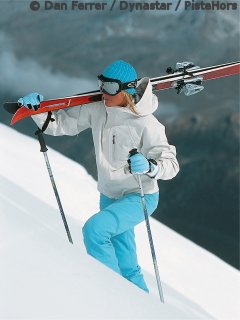 Dynstar Couture
According to Elodie from the Clair de Lune agency who were representing the Mondial du Ski and Snowboard and have carried out an extensive survey on the subject of winter sports clothing there are no major revolutions in tailoring this season, for the ladies cuts remain very feminine, figure hugging but with the emphasis on bright colours, sky blue, pink, white even orange. Glam rock patterns also make a showing, it is all so Apocalypse Snow.
Karen, the very helpful and pleasant PR lady from Dynastar demonstrated the ueber comfortable Lange CRL 80 FR W. This front entry ski boot has rubber coated buckles to help stop "madamemoiselle" breaking her nails when it is -20C. The "Warm Inside" inner boot has a goose down lining while the four clips hold the foot perfectly for good ski control. It is a very stylish translucide blue with a black spoiler. For freeride chicks the 100 FR W has the same Warm Inside system but offers a slightly more performant boot.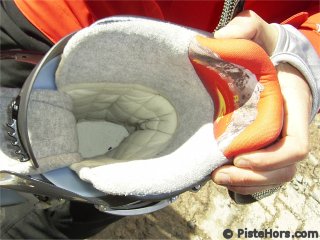 Lange Warm Inside liner
Clothing is tailored for the iPod generation. Inside pockets for goggles, mobile phones, pocket PCs and GPS. Hoods and hats with integrated headphones (Bula "combat" hat). Sun Valley's Shag jacket (we presume named after the dance, not pipe tobacco or the favourite pass time of chalet girls) even has an MP3 pocket with routing for headphone cables.
The first fruits of the Quiksilver/Rossignol merger were on show: the ski range from Roxy. Better known for clothing for budding surfer babes their skis included some itsy-bitsy polka dot patterns along with pink floral and jungle green camoflague themes. Very aesthetic and the skis are apparently adapted for female morphology with raised heels and fixations positioned further forward (Autodrive W system) to adapt for city high heel wearers.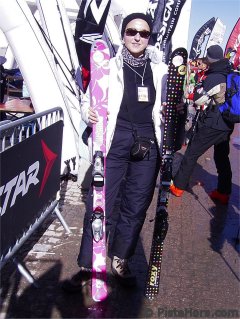 Roxy Skis
Rossi also continues its association with JC de Castelbajac who is assisted by designer Mark Newton this season. The Rebel jacket, in black with blue lining, is all very punk with a myriad of zips and belts. Pucci has designed some tight fitting ski pants with their trademark geometric patterns; this is coupled with a white anorak with matching trim. Rossi and Nike ACG have gone orange in a big way but chez Nike we liked the black with red-piping Hybrid jacket. The Barrier Ridge down jacket and Cruiser cargo pants continue this look. There was also a fetching "puffa" style Boundary jacket but in forest green rather than Chav Black typical of Essex car boot fairs. The Meadows quilted jacket in bright red with black tailoring has a kind of biker chic and would go well with the All Mountain insulated black pants.
For guys we also noticed clothing modelled by Japanese designer Yohji Yamamoto who has recently teamed up with Adidas. A Ben Chaplinesque model showed off beige ski pants with matching boots, a fetching grey jumper topped with a silver body warmer straight out of Barbarella. A cold wind had gotten up by this stage and the poor model was freezing his nuts off, ah… bless. For boarders Quiksilver has gone all pinstripe with what looked like a three piece suit, it should please London lawyers and accountants on their hols in Val d'Isère but manages to remain very functional; both in and out of the snowpark. Local rider Luc Alphond is helping Dynastar develop both skis and clothing. Again jackets are tailored in bright orange, very safe in bad weather or off-piste with ski pants in contrasting black.
For those on a tighter budget we can recommend the Decathlon Quecha tailored down ladies jacket in white (59 euro) with their basic ski pants (39 euro). It may not be technical fabric but manages to look stylish on the front de neige.
Posted by on Wednesday, 02 November, 2005 at 12:53 AM
Comments are now closed