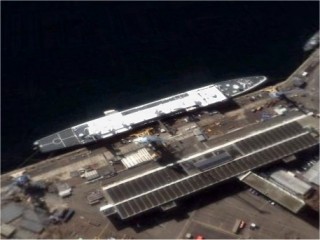 One you won't see with Geoportail. The experimental French missile ship la Monge docked at Brest harbour. The whole of the naval installation in Brest is one big blank: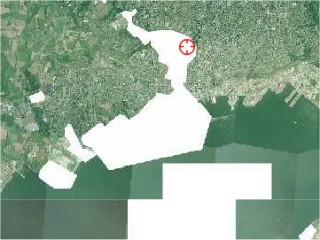 Posted by
davidof
on Tuesday, 27 June, 2006 at 11:55 PM
AWACs at top secret Avord airbase

with Geoportail… nada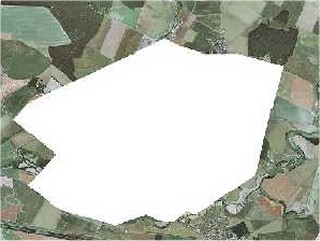 Posted by
davidof
on Wednesday, 28 June, 2006 at 12:08 AM
The IGN Geoportail site is working from today. The overview map of the World gives a fascinating glimpse into France's colonial remains. You wonder why France needs all these little islands dotted about the World. Unfortunately we couldn't look at New Caledonia to see what effect the atomic bomb tests of 1995 had had on the coral reef as there was a bug at the time of writing in the display.
You can search for a town and then see photographs of the area. Some of the photographs are quite old it would seem judging by the building that has gone on since.
There is no way to enter GPS coordinates or overlay GPS maps for the moment but clicking on the X/Y icon at the top right of the map will give you the latitude and longitude for a selected point on the map. The site seemed to work okay with Mozilla Firefox and was acceptably fast.
You switch from a photographic view to a map or relief view. In brief good news but progress needed for this to be a useful tool. Hopefully it will spur Google on to provide high resolution photography for the rest of France.
Posted by on Saturday, 01 July, 2006 at 12:57 AM