Fewer fatalities in the Haute-Savoie in 2006
Despite the worst season for avalanche accidents in France since 1971 there has been a drop in the number of rescue missions in the Haute-Savoie and a decrease in the number of fatalities in the mountains compared to last season according to figures released by the Haute-Savoie prefecture. The Haute-Savoie includes the Mont-Blanc range, the highest mountain in Western Europe and a magnet for extreme skiers and mountaineers.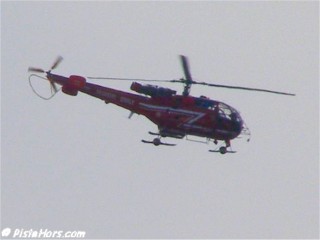 During the winter period from the 1st of November 2005 to 31st of March 2006 the rescue services carried out 9,958 missions compared to 10,493 the previous winter. 8,968 of these operations were by members of the piste patrol attached to the department's 45 ski resorts. There were 8,825 injuries, 16 deaths and a further 4 people missing (presumed dead) compared with 25 deaths and 2 missing the previous season. There were 5 deaths reported on ski pistes. The worst year was 2001/02 when 33 people were killed and a further 9 reported missing.
However the detail behind the overall improvement is more mixed. Although the number of serious avalanche accidents reported to the ANENA (French National Association for the Study of Snow and Avalanches) was the same at 10, 5 of these were fatal this season compared to just 2 in 2004/5.
The 6 deaths due to avalanches included a member of the piste patrol at the ski resort of Bernex. Amongst the 6 avalanche victims 2 were climbing related, 2 ski tourers and one off piste skiing compared to just two deaths for ski tourers the previous season.
In the Savoie the rescue services carried out a total of 16,175 missions. The number of avalanche victims increased from 16 to 23. A total of 52 serious accidents were reported to the ANENA, 21 involving fatalities. This compares with 34 accidents last season, 12 of them with fatalities. There were 14 deaths amongst off piste skiers and snowboarders compared to 11 the previous season and 7 deaths for ski tourers compared to 4 the previous season. A Polish skier was also killed when an avalanche hit a liason track between two pistes in Tignes. The department also saw 13 deaths due to heart attacks on piste, double the previous season. Experts warned that lack of training and the stresses of altitude played a role in these deaths.
The Savoie accounts for around 41% of skier days in France, roughly the same as the percentage of avalanche fatalities during the winter. The Haute-Savoie has 22% of skier days and 11% of avalanche fatalities.
Further Information:
Current French Avalanche Statistics
Posted by on Saturday, 29 April, 2006 at 08:23 PM
Comments are now closed