Chamonix Freeride Days
The end of the season is nearly upon us with just a few high altitude resorts open: la Grave, Tignes, Val Thorens and Chamonix Mont-Blanc will shut their lifts at the end of the week. That brings us around to the annual Freeride Days. The event, organized in partnership between the Compagnie du Mont-Blanc and Dynastar, will be held on the Monday the 8th on the May at Grands-Montets.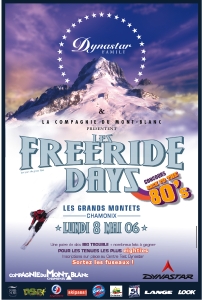 The theme is "back to the 80s" – Duran Duran, mullets, padded shoulders, white tone rear entry ski boots and 203cm straight skis (or even a monoski) for potential wild boys. Slicked back short straight hair, short skirts and frills for the girls. Skiers may like to consider a JM Boivin florescent pink one piece ski suit and boarders, how about a signature canary yellow suit a la Regis Rolland? The most retro skier will win a pair of Dynastar Big Trouble skis. There will be usual assortment of stars from the French winter sports scene and the famous waterslide and snowpark.
Posted by on Saturday, 29 April, 2006 at 08:35 PM
Comments are now closed