Cable Car Crash on the Aiguille du Midi
The first section of the Aiguille du Midi cable car is out of action after a routine operation went badly wrong late yesterday evening. The cable car will likely remain out of use for the whole of August.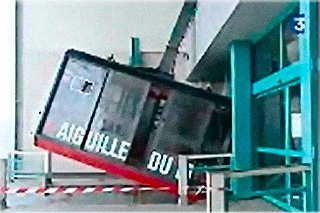 Ooops! (picture France 3)
The accident occurred while technicians were moving the cable car cabins along the cable, a routine operation that is carried out every 200 hours. The operator at the Plan d'Aiguille cable car station didn't notice the arrival of the cabin which entered into the station at a speed in excess of 20km/h. The accident has caused considerable damage, although the structure of the installation is not said to have suffered. The operator is said to be very experienced and just one month away from retirement. Maybe his colleagues can have a whip round for a new pair of specs for his leaving present?
The second section of the cable car will probably reopen after an inspection this week. It takes around two hours to reach the second station on foot from Chamonix.
This is the second major incident on the Aiguille du Midi cable car this year. In May technicians dropped the tractor cable during a shortening operation. The cable car was closed until the 11 of July at a cost of 5 million €. Chamonix has been suffering from a poor start to the summer season during July. The Aiguille du Midi cable car is a major access point to the Mont Blanc massif and this incident will not please guides and hoteliers in the resort.
The new Vanoise Express cable car that links the resorts of la Plagne and les Arcs was partially closed last winter after an error by a technician let a cable car crash into the Peisey-Vallandry winch station. In both the Aiguille du Midi and Vanoise Express the cable car was under manual control at the time of the accident. The cable cars are normally under automatic control when carrying passengers.
Update 25 August 04 10:39 AM
The first section of the Aiguille du Midi is scheduled to reopen on the 1st of September, 15 days earlier than scheduled, according to a communication from the Compagnie du Mont-Blanc. The work to get the section up and running has involved the repair of cable car support pylon, the control and repair to the wagon and repair works to the cable car station entrance at the Plan de l'Aiguille.
Tests will be carried out between the 27th-31st of August if you are in Chamonix.
Update 30 August 2004 11:33 PM
The repairs and tests to the Aiguille du Midi cable car are now complete and it will reopen tomorrow morning. The cable car was shut for all of August with the loss of 100,000 passenger trips, 50% of the total for the summer.

Posted by on Tuesday, 03 August, 2004 at 12:44 PM
Comments are now closed