Aiguille du Midi Cable Car Celebrates 50th Birthday
The Aiguille du Midi cable car celebrates its Golden Jubilee today. On the 24th of June, 1955, after five years construction and 500 million francs costs the first section of the highest cable car in Europe made its maiden voyage. The second section, to the 3842 meter high Aiguille was opened in August the same year. The cable car has been a great success with the public. During the winter it carries 80,000 skiers to the Vallée Blanche and even during June it whisks up to 5000 people per day to the snowy peaks of Mont Blanc; an eclectic mix of ski-mountaineers, alpinists and a large contingent of Japanese tourists.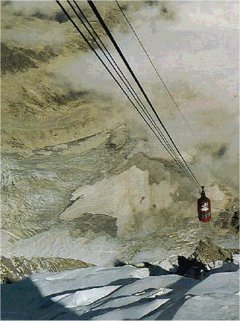 The history the Aiguille du Midi cable car has not been without incident. Construction at high altitude and in extreme climatic conditions was complex. Work was 7 days per week during every daylight hour available. Five guides strung out the main cable over 3km then made the longest abseil in the history of mountaineering to the Plan de l'Aiguille. 1500 vertical meters for the second section without an intermediate pylon. Four men also lost their lives during construction.
A few days after opening one of the drive cables broke stranding 21 passengers. In 1961 a fighter plane cut the cable of the Vallée Blanche lift that had been built to link the Aiguille du Midi with Italy killing six occupants. In 1971 a lift operator was killed when wind blew his cabin from the cable. In 1983 the bottom station was damaged by dynamite, like a similar attack at la Grave in 1976 the perpetrators were never caught. In 1999 the chief accountant fled with 10 million francs he had embezzled from ticket sales, however an incident where the tractor cable was dropped and damaged during routine maintenance in 2004, followed by a cabin being crashed into the intermediate station were financially more damaging for both the lift company, its insurers and the town of Chamonix.
On a happier note in July 1977 the guide Anselm Baud realized the first descent of the 55 degree north face in the company of two friends having used the cable car to access the top of the slope. In 1991 the engineer Denis Creissels was given the contract to renovate the cable car. The speed of the second section was upped to 12.5m/s and the capacity of the cabins increased from 65 to 75 passengers. Today the Aiguille du Midi is a tourist destination known all over the world.

Posted by
davidof
on Friday, 24 June, 2005 at 12:20 AM
Comments are now closed