7th North Face Freeride Les Arcs
If you like watching boys and girls throw themselves off impossible heights with skis on their feet then the the 7th edition of the North Face Freeride, part of the IFSA (International Freeskiing Association) world cup circuit is the place to be.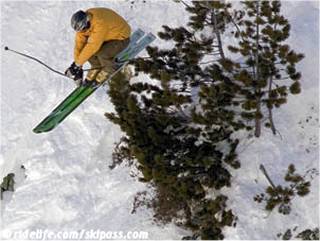 The event takes place over the week 27th February to 3rd March 2006 and brings together 80 of the world's top freeskiers from 10 countries on a course that descends the Aiguille Rouge at les Arcs. The event is scheduled over 3 days with two "weather days" to allow for poor conditions. There are two courses, one for selection (Robert Blanc) and the other for finals (Arandelières). Keep the evening free for viewing films and photos of the day's action and for parties and concerts.
Last year's men's event was won by Tarin Manu Gaidet who went on to take the world title completing a hat-trick in that event. 30 year old Jamie Burge, a pro since 1999, placed first in the women's event.
More Information
http://www.ridelife.com/

Posted by on Tuesday, 14 February, 2006 at 12:49 PM
Comments are now closed