17th Derby de la Meije - Results
The 17th Derby de la Meije was run in good weather on the 1st of April at la Grave. Lack of snow meant that the course was cut short this year, finishing at the moraine of the glacier. 748 riders representing 23 countries set out and 715 of them made it to the finish. Many diverse snowsports disciplines were represented including skiing, snowboarding, monoskiing, telemark and snowscooters. Many of the competitors turned out in fancy dress.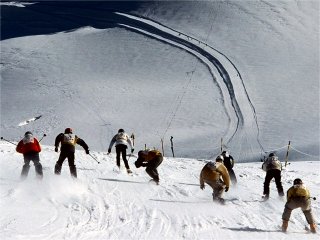 And they are off!
Olivier Meynet once again won the men's ski competition, descending the shortened course in 4m28 seconds. Xavier Duret took 5m25 on a monoski and Yann Michallet 5m48 on snowboard. Telemarker Sebastien Mayer raced down the course in 5m27, proving that telemarkers have little to envy in terms of speed.
In the women's competition another Meynet, Caroline, took the honours with a time of 6m03s placing her 45 overall. All the category winners were French but there were 24 British competitors, one American and one Canadian. The first Brit was Richard Castle in a very respectable 7m24s, placing him 124th, and Brit Babe Gillian Rees took 12m37 to descend the course.
http://www.derbydelameije.com/
Posted by
davidof
on Saturday, 02 April, 2005 at 02:42 PM
Comments are now closed