Climate Change a la carte
Retreating glaciers, one of the results of climate change, creates a number of problems. New lakes can form, threatening habitation if the dam holding back the waters bursts. A change in the water cycle can alter irrigation and electricity generation. The new landscape also creates a headache for map makers and users of their products, skiers and walkers.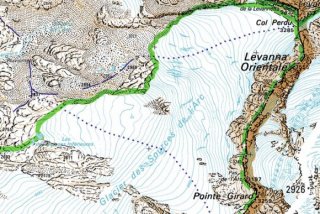 Original 1980s IGN map
According to the French IGN (Institut Geographic National) website five sets of maps are particularly affected in the Northern Alps
i. 3531ET St-Gervais-les-Bains Massif du Mont-Blanc
ii. 3532ET les Arcs
iii. 3633ET Tignes Val d'Isère
iv. 3634OT Val Cenis
v. 3534OT Modane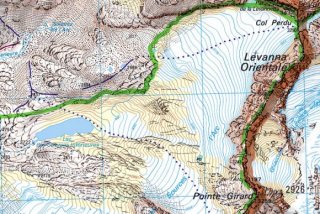 Revised IGN map
One of the biggest changes is in the sector of the source of the Arc rive near to Val d'Isère where the retreating ice has left a new lake. The snout of the glacier has also receded 250 vertical meters. With new digital techniques developed in conjunction with the Laboratory of Glaciology and Geophysics in Grenoble the IGN has been able to update its maps without an expensive land survey. The changes are remarkable, the glacier has split in two and crevassed zone under the Col Perdu has also disappeared, at least on paper.
As well as the Northern Alps, the IGN are going to update the maps covering the Ecrins covering the 3336ET Les Deux Alpes et 3436ET La Meije Pelvoux, we expect some equally stunning changes.
Further Information
http://ripart.ign.fr/spip.php?article10 - link in French
Thanks to http://skitour.fr/ for pointing out this article
http://pistehors.com/news/ski/comments/meltdown-for-european-skiing/
http://pistehors.com/news/ski/comments/val-thorens-lift-kod-by-climate/
http://pistehors.com/news/ski/comments/0740-climate-change-stupid/
http://pistehors.com/news/ski/comments/climate-change-hits-alps-hardest/

Posted by
davidof
on Saturday, 23 May, 2009 at 05:28 PM
Comments are now closed