Love Shack
Love is in the air for French ski resorts. In an effort to attract new clients and differentiate themselves from the hyper-domains, Valmorel in the Savoie and les Orres in the Hautes-Alpes are both running their own version of blind date to warm up the cold month of January.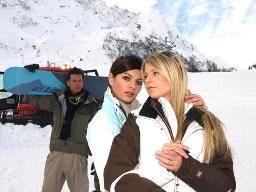 Les Orres is offering two weekends for singles (aka Billy and Nora No Mates). Next weekend (12-13th January) is for the 18-35 age group and 5-6th April for 35+. Valmorel's programme is from the 12th to 20th January.
The idea is speed dating using chairlifts. The rendez-vous at Valmorel is the aptly named Crève-Coeur (broken hearted) chair where you will have 10 minutes to practise your chat up lines. Similar programme on the Prébois chair at les Orres with the bonus that ski lifts will be free for the ladies. Both resorts have a number of other events including Karaoke dating [what's that? - Ed.], snow-shoe walks and apres ski in the disco.
Neither resort has anything on Swiss Arolla (see photo) who have been running a controversial marketing campaign aimed at the "pink Franc".
http://www.valmorel.com/
http://www.lesorres.com/
Posted by
davidof
on Tuesday, 08 January, 2008 at 07:55 AM
Comments are now closed