Happy anniversary le Corbier
The Savoie ski resort of Le Corbier opened its doors 40 years ago last weekend but the gestation of the resort was not an altogether happy affair and would lead to the ruin of a family. Unlike many promoters Christian Guerin was not a rich industrialist or banker. He had made his money playing in Jazz bands in Paris chic St Germain des Pres district but the arrival of "anglo-saxon" pop had left him without work. A chance meeting with Maurice Michaud, the government official in charge of development ski resorts, would change his life.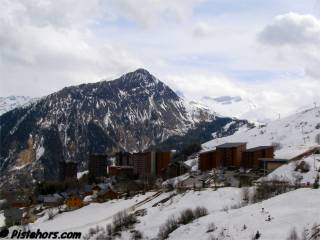 St Germain des Neiges

Michaud told him of a site between la Toussuire and the Aiguilles des Arves where they wanted to build a small ski resort of 4000 beds. Guerin was carried away by the idea of running his own ski area and recreating the cafe atmosphere of St Germain on the ski slopes.
The reality was that the area was depopulated and was barely emerging from medieval subsitence agriculture. There was a poorly maintained single track road, no electricity or phone and water came from a hand pump in the village square. For three years Guerin would travel by sleeper from the Gare de Lyon, Paris to St Jean de Maurienne in order to get his ski resort off the ground. It was only in 1966 that he finally got the rights to develop le Corbier for 30 years. Work began on a hotel, restaurants and a nightclub despite the lack of planning permission. A road was driven over private land. Guerin contacted everyone he knew, friends and family, to put up the necessary capital. There were absolutely no contracts, everything was done on handshake over a glass of marc in the village bar.
Le Corbier opened on the 30th December 1967. All of the Paris celebs were there. Jazz music from Claude Luter's band, blasted out over the slopes but it was a brief honeymoon. In May '68 the whole of France was paralyzed by a general strike bordering on revolution. Everything was in short supply, a panicked President de Gaulle even fled to a French army base in Germany. Work to complete le Corbier ground to a halt and Guerin rapidly ran short of cash. Despite a loan of 4 million Francs from the UICP bank Guerin and his father were forced to sell their remaining shares in the Société d'Amenagement du CORBIER (SAC) in June 1970 for a nominal value. Christian Guerin's marriage couldn't withstand the disaster and with the new owners the halcyon days of St Germain des Neiges passed into history
Further Information
Posted by
davidof
on Tuesday, 01 January, 2008 at 04:23 PM
Comments are now closed