Mondial du Ski and Snowboard 2007
The Mondial du Ski et Snowboard is the traditional springboard event for the new season. Held over the autumn half term holidays, from the 27th October to 5th November, the event gives skiers and snowboarders access to 110 hectares of skiing on the largest lift equipped glacier in Europe. With snow already falling on the mountains we may even get a repeat of 2003 when, as a bonus, it was possible to ski to the village in a meter of fresh powder.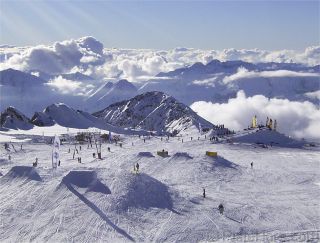 The events give winter-sports fans a chance to get their ski and board legs back as well as test and sample the latest gear at the outdoor center situated at the foot of the glacier at 3200 meters.
Here is some details:
* Free equipment tests (skis, snowboards, goggles, helmets…) with more than 80 exhibiting brands
* A clothing show in the resort centre, where you can discover the winter's latest fashion statements
* Many freestyle activities : competitions for kids and juniors, professional evening demonstrations, a snow-sports video festival…
* Art exhibitions based on a futuristic theme : what will our skis of the future look like ? In conjunction with many artists including Noart, designer and visual arts creator.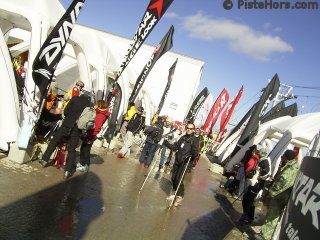 A single day ski pass cost 24.20 € and accommodation for 2 people starts from 191 € for 3 nights. For more information you can call les Deux Alpes tourist office on + 33 (0)4 76 79 22 00, they are very helpful and speak English etc. or check out the websites. Skiers can visit the boarder event and vice-verse if you want to do the whole six days. We always hope to earn-some-turns during the autumn but the Mondial is a good place to ski some vertical and see what's new for next season.
http://www.mondialdusnow.com
http://www.mondialduski.com
The reservations telephone number is
Deux Alpes Voyages – Tel. + 33 (0)4 76 79 75 17
Mondial du Snowboard: 27th, 28th and 29th October
Mondial du Ski: 3rd, 4th and 5th November
Mondial du Ski 2003
Mondial du Ski 2005
Posted by
davidof
on Thursday, 27 September, 2007 at 08:53 AM
Comments are now closed