Retrospective on the 2006-2007 ski season
It would all have worked out fine if it hadn't been for those pesky journalists - to paraphrase the comments of a spokesman for the Compagnie des Alpes (CdA). According to the CdA's quarterly financial report the admittedly poor snow conditions got mixed up with the story about global warming and it was this that frightened skiers away from the slopes. The spin doctors even claim that the season was better than average above 2000 meters. Once again we are sifting through 12 months of weather data in an effort to find the truth behind the 2006-2007 ski season. Our primary focus is on off-piste and ski touring not on snow that comes out of the end of a canon.

Fresh Powder in July
While the reservoirs feeding snow making were running dry Meteo France almost exhausted their dictionary of superlatives over the winter. Terms such as exceptional, extreme, crazy and unprecedented peppered nearly every bulletin. The exclamation mark key must have worn out on their word processor. The forecasters warned that winters such as this would become the norm and that 400 of France's 600 ski resorts will face closure. On the ground it was easy to get caught up in their pessimism. The Autumn was exceptionally dry and warm with little of the normal snow at altitude. A cold snap at the start of November got most ski resorts running their snow making, obviously hoping for an early start to the season as in 2005 but within a few days the expensive artificial snow had melted and the mountains returned to a rich brown colour. The first real snow came at the end of November. Enough to provide a base at altitude and even to tempt a few skiers out on their rock skis. As is frequently the case, the snow blew in from a depression over the Mediterranean to give best cover to the south, particular the Hautes-Alpes. 60cm fell in the Ecrins massif at 3000 meters. This appeared to break the long run of 8 months (with the exception of August) of above average temperatures.

Aiguillettes near Vaujany - 7 Dec 2006
Real skiing, and ski touring began in earnest in the second week of December when another storm brought a further 60cm to the mountains of the Southern Alps and Isere. Little did we realise at the time but this was to be some of the best snow of the season. It fell with little wind and was cold and light and on a uniform base. Champagne powder in a winter comprising mainly warm beer. Anyone in the UK who had taken advantage of Tour Operator's £79 all inclusive ski holidays was in for a treat. The Savoie and Haute-Savoie did not benefit much from the early season snow, there was around 30cm depth at 2000m at the start of December. The month also saw a continued lack of precipitation, around 30-40% below norm and above average temperatures: 2.5°C warmer than average at altitude in the Haute-Savoie and the sunniest December for 30 years. Only the very highest resorts such as Tignes, Flaine and Avoriaz were able to operate near normally over the Christmas holiday period. The French weather service reminded us that 2003 and 2004 both saw dry starts to the season but the cold weather preserved what little snow did fall. By the second half of December ski touring and off-piste skiing were next to impossible except on glaciers.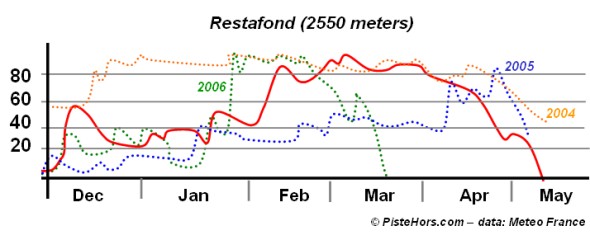 Early snow in the Southern Alps (red line) and a near normal season
In the Northern Alps the misery continued, indeed worsened in January. A small weather system brought around 40cm of snow above 2000 meters just after the New Year but the month that followed was more like the end of March than mid-winter. Temperatures were 3°C above average overall with only a cold end to the month compensating somewhat. Records were pulverized. It was 6C above average at the start of January and 9°C above average mid-Month. It rained to 2700 meters in some areas of the Northern Alps leaving a 2-4cm sheet of glass hard ice covering the snow and rendering north sector routes unskiable. This ice was to remain just below the surface for the rest of the winter causing a number of accidents due to falls. Skiable south faces saw spring like snow conditions, very pleasant if totally out of context. There was little skiable snow below 1500-1800 meters in the Northern-Alps and woodland, such as the Chartreuse mountains, remained completely unskiable. A good number of ski resorts had to close their domains. Super-Besse in the Massif Central struggled on to mid-month with skiers confined to ribbons of man-made snow amongst green fields. Nothing new, the elderly recalled the winter of 1964 when lack of snow was classed as a "national catastrophe" with barely a skiable piste below 2500m. Finally respite on the 23rd when the maximum temperature dropped from 5.3°C to –8.4°C over a 24 hour period at Pralognan (1420 meters).

Frozen rain at 2500 meters
February was warmer than average, forecasters had to go back to 1990 to find a month with so few hard freezes at Peisey-Nancroix near to les Arcs with only one day less than –5°C. On a positive note there were regular snowfall which finally brought snow levels up to average by the end of the month, but only briefly. Ski touring was finally just possible in low mountain zones such as the Vercors and Chartreuse. Between September 2006 and February 2007 the temperature was 2.8C° above average in the Savoie. The warmest at Bourg St Maurice since 1947. September 1997 to February 1998 was also warm at 1.5C above average but was roundly beaten this winter.

Winter arrived in March
The March to May period was 2.1°C above average, the hottest in the 1950-2007 frame and hotter than previous scorchers: 2003 and 1999 1.7 °C and 1.5°C. The detail is slightly different, March was just 0.5°C above average. There was snow at valley level on the 19th-20th March and precipitation was generally above average, 100% more in the Upper Tarentaise and Upper Maurienne valleys.

Percolation columns made the ski touring unpleasant
April was an unprecedented, to pinch some of Meteo France's hyperbole, 4.3°C hotter overall beating 1961 (+2.7 °C) and dry. Mid-mountain areas were even hotter. At Bourg Saint Maurice it was 6.1°C above average and there was just 1.6mm of rain in the whole month and no frost, the last time that happened was 1961 There was a rapid spring thaw and touring conditions were generally poor with percolation columns spoiling the snow. In recent times such a temperature difference has only ever been during the heatwave of August 2003 (+4.7 °C) and the awful winter of 1990 (+4,5 °C). After good conditions in the first week ski touring dropped off rapidly from the middle of the month with many skiers declaring the season as over. They maybe spoke too soon.
May 2007 was 1.7°C hotter than normal but the conditions stabilized with some fresh snow and generally cloudy weather. A final blast of 20cm of dense snow at the end of the month down to 1000 meters even saw anunprecedented descent of the Dent de Crolles by your correspondent in the Chartreuse which attracted the interest of the media. The start of summer saw a continuation of the of cooler and stormy weather. While ski touring was finished below 2300 meters the conditions were ideal for some excellent descents on the high mountain ranges. For example the vertiginous Couloir Couturier on the last day of the month a pitch was first skied by Anselm and Vallencant at the start of August 1973 and the hyper-extreme Couloir Jager. Ski touring continued in a few sheltered locations into early July. Once again your correspondent managed 1000 meters of vertical on the 5th after a storm dropped some 10-20cm of fresh snow on the mountains.
The Pyrenees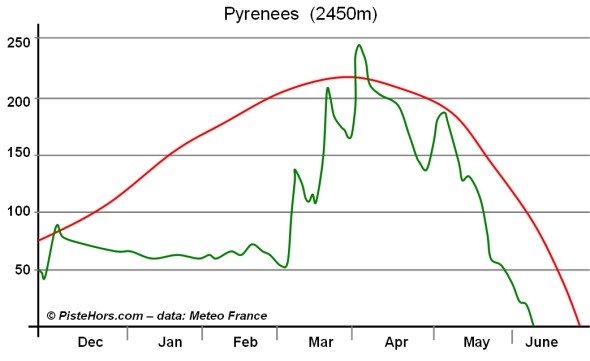 Worst winter for 30 years
The Pyrenees have had a number of good years, especially early season. After some initial early snow December was cold, especially over Christmas with lots of sunshine. January was dry with record beating temperatures, both high and low. At sea level on the 9th the Mercury hit 19.4C beating 19.1C set way back in 1897 but this dropped to -4.4C on the 25th beating the -4.2C set in 1933. However overall minima were 2 to 3C above trend and maxima a whopping 5 to 6C above trend. February continued warm with little snow although there were some falls above 1300 meters. Snow levels were at their lowest for 30 years at 1800 meters. Winter finally arrived in March with regular snow on the 7th,, 19th to 22nd and on the 30th to 31st. On the 19th the snow even reached valley floor level. By the end of March snow conditions were finally above average. Winter continued at the start of April with snow down to 1000 meters but it was then very warm and windy with temperatures reaching a record 26.7C in Perpignan on the 18th beating 24.4C set on the same day in 1967. After a brief period of near normal snow conditions at the start of May snow melted rapidly with the ski touring season finishing 2 to 3 weeks earlier than normal. A few hardy souls were still ski touring into June but only after long hikes and then on the remains of the glaciers. You needed to be motivated.

Early skiing in December
Corsica
December saw temperatures 1 to 3C above average and it was both wet and stormy with only a little snow at altitude. January saw minima 2 to 6C above average and maxima 4 to 7C above average. Winter finally arrived at the end of the month with colder weather and snow from the 22nd to 28th which finally got the ski touring season started. February was dry with temperatures 1 to 2C above average and the warm weather continued into March with only the end of the month colder. April was also very warm and dry and the ski season came to a rapid close. The island was then blasted by a severe snow storm at the end of May with high winds and sub-zero temperatures. This left four walkers dead. A couple of hikers told PisteHors.com that they saw walkers setting out in t-shirts and jogging shoes on the day the storm was forecast and some didn't have wet weather gear. They came across the fourth victim of the storms on the morning of Friday 1st June, frozen in his tracks.
Southern Alps and Isere
The picture for the pre-Christmas period was mixed. The temperatures were above average, in particular maxima, with the 60 year record broken at Embrun. However there was some snowfall at the start of the December, particular around Gap and the Embrunais. In January Briançon saw the best snowfall but elsewhere it was quite dry. Again a 60 year record for maximum temperature was broken by 1.5C with 19.C at Embrun on the 19th. February snow cover was below average under 2000m returning to normal higher up. There was not much sunshine but temperatures were still warm. Despite cooler weather in March the September 2006-March 2007 average was the hottest for at least 60 years beating the previous record by 0.5C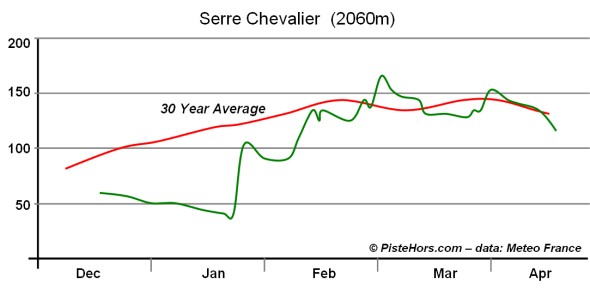 Poor conditions over Christmas and January
At Serre Chevalier snow cover at 2000 meters was acceptable after the third week of January and approached average from mid-February, remaining like that until the end of the season. Les Deux Alpes and l'Alpe d'Huez had near normal snowcover at 2500 meters from the start of the February school holiday period. The extremely warm and dry April caused a rapid thaw even at 2600 meters. Elsewhere in the Isère conditions were more difficult. Overall skier numbers were down -13.5% and turnover dropped -10.9%.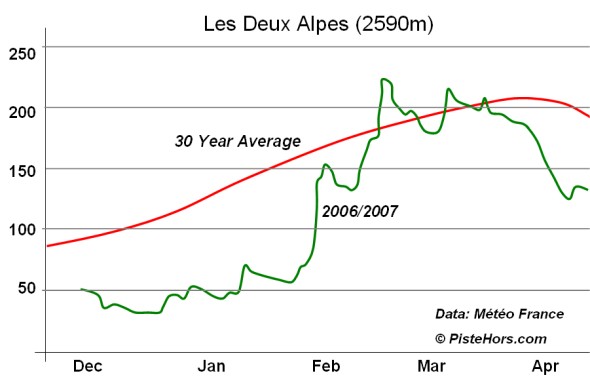 Below average at 2500 meters except Feb - Mar
Conclusions
Whatever spin you put on the figures it is hard to deny that last winter ranged from disappointing to disastrous. After a warm and dry autumn which did little to cover high mountain areas, winter was the warmest in France since widespread recording in 1950. 2.4C above average in the Haute-Savoie, the warmest for a century. The previous records date from 89/90 and 74/75, both 2.0°C above average and both poor ski seasons. France has seen poor winters before, notably 00/01, 74/75, 94/95, 97/97 and the black trilogy of 87-90. What was unprecedented was that month after month temperature and rainfall records were broken with the coup de grace being April which killed the season in all but high mountain areas. The impression for ski tourers was of a difficult start, a February and March which were more or less normal in mid to high mountain areas then a poor April followed by a good May. Overall impressions were of a winter that never really started and a spring that came 3 to 4 weeks early. Analyzing the figures from one popular website (http://www.skitour.fr - with a base of around 500 active contributors) the average number of trips dropped 6.2% to 5.46 compared to 2006 and the vertical of each trip increased 4.1% to 1356m. This increase corresponds to skiers searching for snow on longer mid to high mountain routes because the low mountain regions surrounding large towns such as Grenoble were impracticable.

Ski touring below 2000 meters was practically impossible in 2007
Once again we've used the camp2camp.com database of ski tours to draw some comparisons with previous seasons. Ski tourers are very sensitive to the climatic conditions and give a good guide as to what the winter was really like. Looking at the Northern Alpine ranges of the Vercors, Chartreuse and Bauges, mountains that top out around 2200 meters, we can see that ski touring activity was marginal until the snowfall in the second half of March then tailed off rapidly with the April heat wave. Taking the Northern Alps as a whole the pre-season started 5 weeks later and remained below average until mid-March with once again a rapid decline in the second half of April despite good conditions in May.


A very poor season at 1600 meters
According to Jean-Charles Faraudo of the French Ski Lift Operators Association (SNTF.org) the number of skier/days dropped by 12% over the 2006/2007 ski season compared to last year with turnover down 10% (lift prices increased by 2 to 3% last season). However that follows a period of sustained growth. Compared with the five years from 2002 to 2007 the drop was a less marked 8%. The picture was variable. Big resorts, those with turnover greater than 10 million euros in 2006 saw their receipts fall 6%. Mid mountain areas (turnover from 2 to 10 million euros) saw an 16% drop, enough to put many of them in the red. Typical is les 7 Laux with 120km of runs between 1350 and 2500 meters. It season was 20 days shorter compared to 2006 and it finished 2007 with a 650,000 euro loss. A lot of the additional costs were down to snow making and piste preparation. Ski stations with turnover from 100,000 to 2 million euros saw receipts drop by 40% and for micro-stations it was nothing short of a disaster with a 98% drop in turnover. Most didn't open at all. For example the Col de Marcieu with pistes between 1000-1400 meters which was able to operate a learner ski piste in December thanks to snow making.

Slow start to the touriing season and an early end
All this should be compared to the difficult year of 1989/90 which saw an overall drop in turnover of 30% with massive state aid and an effective nationalization of the major ski areas under the umbrella of the Compagnie des Alpes. As mentioned in a previous article snow making largely saved the season for mid to high mountain areas. 18% of French ski runs can now be covered with artificial snow. Below 1800 meters temperatures were often too high to run canons. Meteo France commented that "Over the last few years ski resorts have invested heavily in snow making, the start of winter like 2007 shows the limits of that policy".

Bare ski pistes
The situation was quite different depending on the region. The Southern Alps came out pretty well with a 1% increase in turnover (+1.2%). The Savoie also did well, the drop was limited to -4% (-2.1%). The Haute-Savoie, with may small resorts saw a drop of -11% (6.2%) but again compared to the five year figure the situation was less bleak. The many mid-mountain resorts in the Isère and Drôme had a difficult season with an -18% drop (-15.7%). Likewise the Pyrenees with -31% (-26.3%), conditions were said to be the worst for 30 years below 1800 meters. The situation was really bleak for the Massif Central -38% (-18.1%), Jura -53% (-41,8%) and the Vosges -65% (-52.9%) although in the Massif Central they are used to such conditions. (figures in parenthesis compare with the 5 year period 2002-2007).


More or less normal conditions at altitude - at least until April
What about the story of conditions being better than average at altitude? If we take the weather station at la Plagne-Bellecote situed at 3000 meters as typical then snow levels roughly match those of previous seasons, at least until April. What pleased ski resorts was that there was adequate snow cover to ski on-piste above 2000 meters for the key winter school holiday period (start of February to Mid March) and over Easter and that it was not as cold as last year's Arctic temperatures that sent skiers off to lower lying resorts.

At 2000m conditions were below average for most of the season
The director of les 7 Laux in the Northern Alpes thinks talk of climate change wiping out French skiing is premature. The resort has experienced difficult winters before. He thinks that more small resorts with precarious finances and an out-of-date product will go bust but other ski areas will restructure, investing in snow making to ensure a return to resort and with telecabines to transport skiers to higher altitude skiing when conditions are poor.
Further Information
It's not climate change, stupid!
French ski resorts saved by snow making
Mid mountain resorts hit hard by snow drought
Anxious wait for winter
Retrospective on the 2003 2004 ski season
Retrospective on the 2004 2005 ski season
Retrospective on the 2005 2006 ski season

Posted by
davidof
on Wednesday, 11 July, 2007 at 04:16 PM
Comments are now closed