Q. what would you say if one of these bindings or one on a par with it broke first time out not on the mountain but at your local snowdome and not even having skied on them- just put them into walking position and then lock down- Id say that was a pretty major problem ! I am am not an expert but I think it might justify a serious look at the injection moulding process and a full investigation into the possibilities of this happening again !-and a full explanation to the individual who could have had a serious accident because of the fault- i am waiting for this report off the swiss manudfacturer if i don,t get it I will send you some photos that you may be very interested in.-
p.s. where are yu based ? are thereany jobs going ?
p.p.s. piste hors is the best off piste website in the world -I think perhaps !
Hi Shamus,
Yes it is very worrying and has been a problem for all manufacturers of ski touring gear. So much so that people sometimes wait at least a season before investing in gear.
While recognizing that all gear breaks the consequences of a problem far from civilization and possibly in a dangerous position are all the more serious. Of course we rely to some extent on feedback from our readers about problems.
With the Pure the toepiece has been a major headache. We are told they either break early in the lifecycle or not at all. The famous "bathtub" curve of failures. It is down to a casting problem. As you can see in this photo the 2007/8 toepiece has been redesigned somewhat and uses a thicker casting. This has added about 35 grammes to the overall weight of the binding.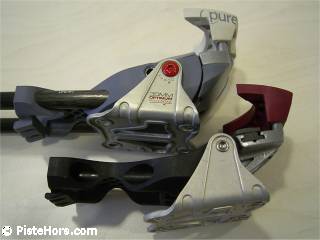 Please feel free to send any further information about the problem you encountered which sounds like it is with one of the plastic pieces.
edit: 2 April 2007
Just to clarify things it seems like you are talking about the Diamir Explore right? This is of course a completely different binding, and manufacturer, from the Silvretta Pure which we were reviewing.
ps We are based down in the Chartreuse mountains between Grenoble and Chambery. When we are big enough to hire people I will drop you a line
i,m gonna send you some very interesting photos- I am waiting for an explanation from fritschi-through the retailer the retailer who sold me the Diamar explores bindings is beyond reproach he upgraded the binding to a free ride he is cool-however the british importer well I do have serious concerns over their attitude which will hopefully be resolved when I get a full response and explanation of the fault- which is Iam sorry to say is the worst I've ever expierenced as a mountaineer-
p.s. will send photos through via info@pisthors -will definately work with you on this one!
Posted by on Wednesday, 28 March, 2007 at 12:47 PM
would the manufacturers give me a technical spec on the forces touring bindings can stand up to!